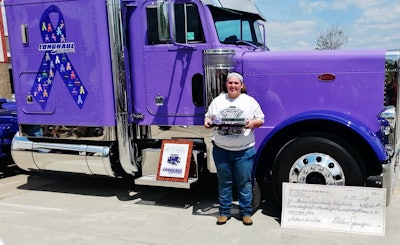 Saturday, May 17, Michigan-based driver Brittany Dunigan (pictured, above) traveled to Iowa to pick up the Long Haul Survivor 2000 Peterbilt 379, which was raffled as part of a benefit for the American Cancer Society. Following Overdrive's interview of Dunigan two weeks back, Mike Heiderscheit, along with Eldon Jaeger one of the principals in the custom rig's build and benefit, shared achievements for the rig over its yearlong tour of the country raising donations.
Total donated: $142,242
Total miles traveled over the 2013-14 tour of truck shows: 16,222 in 19 states
Number of events: 72
Catch a photo gallery of the custom rig at the 2013 Great American Trucking Show via this link. And for our complete coverage of the rig, built in memory of Heiderscheit's wife and Jaeger's daughter, visit this page.