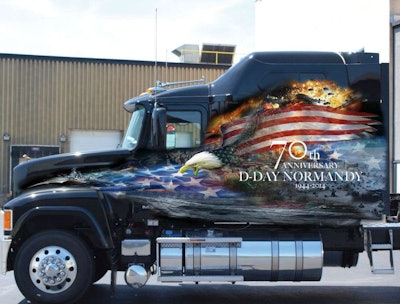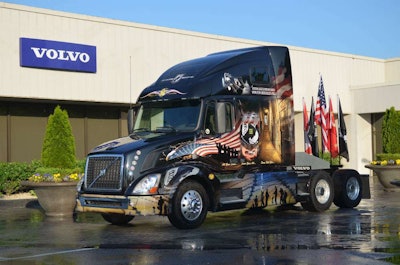 Volvo and Mack each had on display a patriotically designed truck for the Memorial Day weekend Rolling Thunder Ride for Freedom rally.
The trucks traveled from their respective plants to Washington, D.C., in a motorcade. The rally is held in honor of the U.S. military.
Volvo's memorial truck, a Volvo VNL 670, bears graphics saluting all military service members. As in years past, a significant portion of the design pays tribute to prisoners of war and those missing in action. Each year, NRV employees and the UAW Local 2069 Veteran Committee develop custom graphics for its tribute truck. In designing the truck, the veteran's committee focused on creating a visual to provoke thought and reflection, educate the public and incorporate a healing aspect.
Mack's memorial truck, a Mack Pinnacle, features graphics commemorating the 70th anniversary of the Allied invasion of Normandy. The custom design pairs land, air and sea D-Day images with images of an American flag, bald eagle and Arlington National Cemetery.