A year's worth of shining, polishing, waxing and wiping comes to a head this month in Dallas at the Great American Trucking Show, where four trucks will emerge as the 2014 Overdrive's Pride & Polish National Champions.
The contest pits the 20 Best of Show winners from the season's five Pride & Polish shows, dating back to last year's GATS winners. Winners from the 2013 GATS and 2013 Performance Diesel Inc Truck Show & Dyno event Pride & Polish, along with the top rigs from the Pride & Polish events at the 2014 75 Chrome Shop Show, 2014 River States Customz Show and Fitzgerald Truck Show, will be on hand and in the competition.
Cast your vote for Pride & Polish's top rig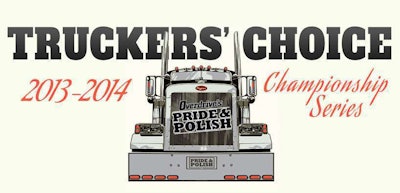 The judges aren't the only ones who have a say in naming the Pride & Polish champs: You can vote once per day leading up to the show for your favorite truck, and the truck with the most votes at the end will be named the Truckers' Choice National Champion. Click here to vote.
The trucks will be specially staged and judged in a special round, apart from the show's main judging round.
In addition to the National Championship trucks, GATS will also be packed with show trucks competing in the general Pride & Polish competition, and the winners will qualify to compete in next year's championship round.
The show's winners will be announced in a ceremony open to the public in the show truck staging area at 11 a.m. on Saturday, Aug. 23.
Here are the trucks that will be competing in the championship: