Iowa-based Ron and Dan Brubaker represented two generations of the family with unique, respective 1988 and 2014 Peterbilts, Ron's a 379 and Dan's a 389 glider powered by the Detroit 60 series engines Tenn.-based Fitzgerald Glider Kits typically puts in their glider kit units.
Both rigs are in no way short of custom touches, Ron's "One of a Kind" most definitely earning its name, from the flying swine hood ornament (fitting given the creatures Brubaker typically hauls) to newly redone tile flooring and other interior elements.
Perhaps the most special change, and one that required a hefty dose of sweat equity, was the change to the hood of what was a 1993 short-hood 379 Ron bought new in October of 1992. As he notes in the video below, he's given it the long-hood squared-off look after cutting about eight inches from long-hood panels and further engineering work to make the new hood fit.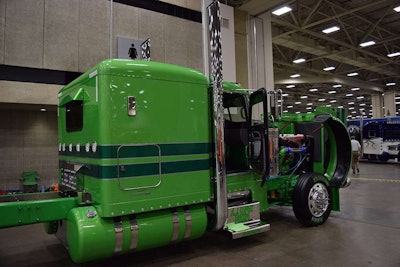 Ron's also taken some cues with some recent changes from his sons, who insisted the unit's styling with make more sense with flat-top rather than the stand-up sleeper that was on it prior to recent changes.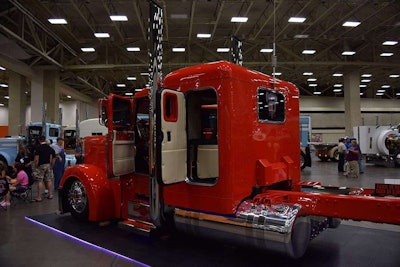 Given the many miles put on the rig over two decades hauling livestock with it, Brubaker's also changed the power under that hood from the original engine to a 3406B, entirely mechanical Caterpillar, run through a 15-speed two-stick transmission.
With his own sons now involved in the trucking business, Ron himself follows two prior generations of livestock haulers — his grandfather, Oscar David Brubaker, started out hauling livestock in 1934 right there in the same Iowa county where Ron lives today — Sigourney, Iowa, is Brubaker's hometown. Interestingly, Oscar David, Brubaker says, bought the first Wilson possum-belly trailer — the belly "raised and lowered on cables" at that time — sold in Eastern Iowa.
He tells you more about "One of a Kind" in the video below, and you can check out a gallery of images of the unit — along with some photos of his son Dan's — just below the video. Both rigs took home Best of Shows a few weeks back in Tennessee are competing for Overdrive's Pride & Polish National Championship, in Working Bobtail (Ron) and Working Combo (Dan), respectively, at the Great American Trucking Show next week.
Find more on Ron's son Dan Brubaker's 2014 Peterbilt 389 glider kit and 2015 Wilson three-axle livestock trailer via this link.
[youtube ifSjmE4Bjqw&list=PL8173C3C67B03ED0A nolink]