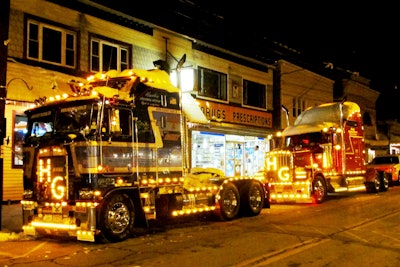 Many of you will no doubt recognize the illuminated HG on the grilles of both rigs pictured, a mainstay marker at trucking events around the United States and on the long-haul highways for more than 30 years. What you might not know is that for the cabover of the pair, the picture represents a swan song of sorts for the rig's public events, at least under the ownership of its operator.
Highway Hank Good donated the infamous 1981 Kenworth K100, the Highway Hilton No. 1, late last year to the Iowa 80 Trucking Museum, where it will rest out its days as a monument to a living legend.
As of Dec. 23, the rig was on display in the museum. Owner-operator Good today rolls in the 2007 Kenworth W900L pictured above behind the Highway Hilton No. 1, following the Jeffersonville, N.Y., 2014 holiday parade, which the operator has taken part in regularly for years. With antique plates on the K100, following that he bobtailed across the country to Walcott, Iowa, for one last ride.
The K100 has quite a history behind it indeed.
Good has had it since it was new, "picked up in July 1981," he says. "When I turned it over to Iowa 80 it had 1,590,000 miles on it," and that includes two European tours in 1992 and 1993, respectively, when Good for a time became an ambassador for companies such as Cat Scale and Truck Lite in Europe, particularly in Germany where his mother was born.
"I happened to go there in 1985 for an Aunt and Uncle's wedding anniversary," he says, where he kicked around the logistical possibility of bringing the truck over with contacts in the industry there. "The more someone tells me I'll never do something, the more I want to do it. In 1988 I went over to a German truck show – again, they said I should bring it over."
Over the following years on overseas trips his contacts in the European trucking world continued to grow, and when he made his first run to Europe with Cat Scale, his reputation in some ways preceded him. At least one truck stop owner "had told all his customers that this was the most famous truck in America," Good says.
The 1992 European tour was only supposed to be a four-week endeavor, but he "ended up staying 12," Good says. "A very happy, and very positive time."
He'd later tour Sweden, Switzerland and other locales there. Today, given his Facebook presence, he's "constantly getting pictures from folks who saw the truck" in Europe.
More importantly during those long years, Good made his way on the U.S. highways.
"My regular run was New York to California two times a month," he says. He was with them from "August 1978 till they shut their door in November 1996," running reefer freight, anything from chemicals to dry goods out to the West Coast, "produce back until the late 1980s. In the 1990s, "I was on the Sony Electronics account, some of the most expensive electronics in one of the worst neighborhoods in L.A. I timed the lights when I came out of there. I usually wouldn't stop until Barstow. Often we had a black car following us."
Today, the Monticello, N.Y., resident and his W900L run leased to Iowa-based DMTC. Find more pictures from Good's European adventures and from his delivery of the original Hilton to Iowa 80 below.
About that, he says he's been associated with the family behind the "World's Largest Truck Stop" for years, and was in attendance when the museum there opened. "I said to myself, one day, I want to donate the truck," he adds. He's volunteered with many senior citizens over the years, has seen what happens to material possessions when finances get tight late in life. "I didn't want it auctioned off and put on a container" to go overseas in pieces. With a recent health scare of his own behind him, "I figured, why wait till later."
If you're headed down 80 past Walcott, Iowa, in the near future, stop in and give the rig some company.