It's not a Peterbilt or a KW in this case or even an actual pot of gold — it's a 1991 Freightliner FLD conventional with a flattop sleeper that owner-operator Ron Stroke Sr. of Jefferson, Ohio, had newly painted back last summer. Shortly after the Sterling Gray paint — chosen in part to match his wife's car — was laid on by Rocky's Body Shop in his area the owner-operator got his decals on it at home where he parks and pulled it out for a picture. Lo and behold: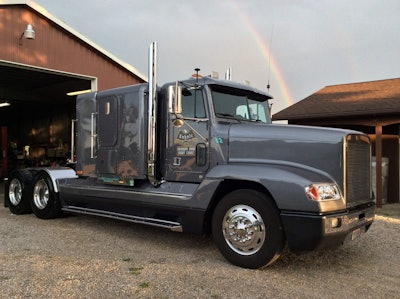 "I told my wife, 'I've get to send that to somebody'," Stroke says. Finally, just yesterday, he added the truck to our Reader Rigs gallery with this note: "Just came out of the body shop and the rainbow appeared. This must be my pot of gold!"
Stroke "built the truck originally as a glider kit in 1991" for an owner-operator in his area, who's since retired. In 2004, Stroke bought it bakc and "have been running it ever since."
In 2012, he replaced the Cummins motor with a 1993-vintage Caterpillar 3406B, run through a 13-speed transmission. He's leased to Kuhnle Brothers in Newbury, Ohio, pulling a chemical tanker 90,000-100,000 miles a year in the Eastern states. "It's still a good old truck," he says. "I just try to keep it looking good."
I'd say he's succeeded.