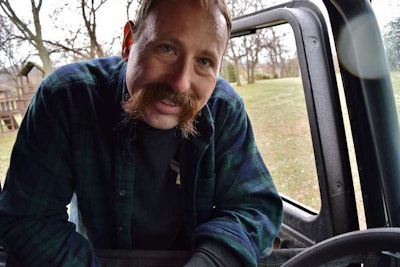 If you own or drive a Mack, you might well run across Mack diesel tech Mike Morgan by day, if you have a maintenance issue anywhere in the vicinity of the I-24/40/65 corridors crossing through Nashville, Tenn. Sooner than that happens, God willing, as some of you will remember, you may well catch him behind the wheel of this monster on a race track on television: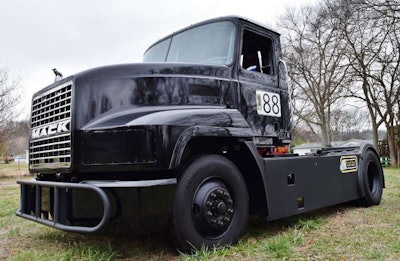 Below, catch a new video walk around the custom race truck he's built more or less on his own for his Powershift Performance race team, which is planning on competing this year in the ChampTruck series. The Mack of Nashville technician has a past in racing, as we've written previously, and his powertrain expertise has so far served him well taking a newer-model Mack MP7 and tuning it for optimum performance. He talks more about that in the video. One question he doesn't answer there, however: Why the number 88?
It's got nothing to do with Dale Jr., in any case.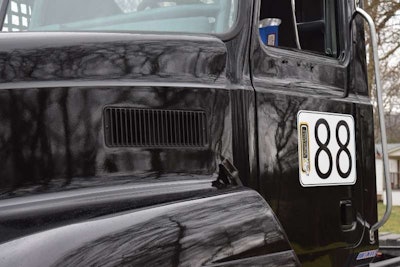 "Orginally, the cab of this truck was from a UPS truck," Morgan said, a company that had a long association with racer Dale Jarrett and the number 88. Being a patriotic person, too, Morgan hoped ultimately to "be sponsored by the military. In the armed forces 88 Mike [88M] stands for truck driver. I want to be 88 Mike. I want to be the truck driver."
Anybody out there with deep pockets, Morgan's looking for sponsorships as we speak, as raceday gets closer. For detail on others who've helped him out in his effort so far, follow this link. More about his race team is here.
"We've had some help with the engine, drivetrain," Morgan says. "I'm not selling the house to go racing – my wife won't let me.
"I might try it." He laughs. "But I won't do it. We're actively seeking a sponsorship – every night I sit here and put it out to three-five different places." The newness of the series, he says, makes such things difficult, for operations large and small, he believes. All the same, as the ChampTruck organizers have noted before as well, "I don't think you're going to find a bigger billboard to advertise on than a ChampTruck," he says.
And as he puts it in the video, "If it's in your blood, it's in your blood," he says, "to do stuff like this," to race, which will be familiar no doubt to some longtime, second- and/or third-generation truckers. "To get an opportunity to put truck racing on my resume, to say I did it, I did it at least once in my lifetime, I took a big semi truck and went out and raced it on a road course track…"
For Morgan, that's a dream come true.
[youtube hN7Gra0m5I4 nolink]