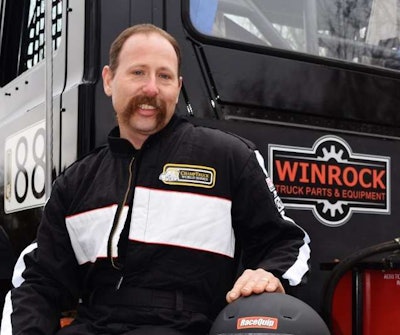 The Meritor ChampTruck World Series crowned its first champion Sunday following the season finale at Las Vegas Motor Speedway.
Mack of Nashville diesel tech Mike Morgan of Wartrace, Tenn., won the inaugural ChampTruck points championship with consistent finishes around the top of the leaderboards. Morgan won the first race of the season in April at New Jersey Motorsports Park and stayed around the top five in the season's eight other races.
Morgan beat out small fleet owner Allen Boles and Hungarian racer Krisztian Szabo to win the series in driver points. Morgan's team, Power Shift Racing, also finished on top of the team leaderboard over Szabo's Truck Race Team USA and Boles' Jupiter Motorsports.
Going into the final Vegas event, Morgan says, both Szabo and Boles were positioned in the overall points to pull out a win if Morgan faltered in the competition.
"It was an amazing finish," Morgan says, adding that he was confident going into the first Vegas heat that he would win it if only he could get on the pole position to start. He did both, going on to win two more heats and placing second in a third. In another, running then in second place, he was "black-flagged and given a two-minute penalty" after his and Boles' rigs "got into it," he says.
But at that point, the penalty "didn't matter" as far as the points were concerned, he adds. His personally designed Mack, powered by an MP7 engine the diesel tech originally electronically calibrated for racing himself, "had the best lap time for any race" all weekend long.
It's been a long season for Morgan on the road back and forth to races points east, west, north and south from his Middle Tennessee home. His team, which "started with so little" other than a commitment from Tennessee-based Winrock Truck Parts in terms of sponsorship — Winrock supplied a variety of replacement parts throughout the season — finished big. "We've worked so hard to get where we are."
Morgan and crew chief Matt Kuhn, a longtime friend of Morgan's and employee of the Mack dealership in Rock Hill, S.C., "kept making adjustments to the truck all year long." After each race, "we'd make changes and go back out there and make it better so we were always heading in the right direction."
Of the final win, "it's unbelievable," Morgan says.
On the strength of his success at various points throughout the season he garnered support from FinditParts for his truck's brakes, Bosselman Boss Shop with a financial infusion, and Tennessee-based small fleet Steve Nash Trucking for his truck's fuel — all in addition to his wife, Wendy, and various fans who stepped up to volunteer for the team through the final race.
"We'll see what we're going to do next year, if we can get something together," Morgan adds, hopeful about a second season. "I'm excited now."