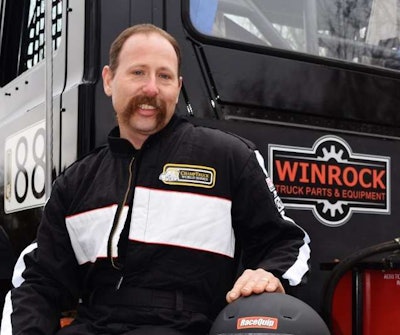 Mack of Nashville diesel tech and "Powershift Performance" ChampTruck World Series racer Mike Morgan this past weekend got an opportunity he'd been waiting for. "We've been looking for a place to do a couple shakedown runs and knock the cobwebs off" the Mack race truck he's built. Care of some associates with a Murfreesboro, Tenn.-based truck service location that itself owns a few racecars, Morgan put the MP7 engine and the modified unit through the paces at the Nashville Fairgrounds half-mile oval this Sunday.
"That's actually pretty much making history out there," Morgan says. "You probably won't see a big truck on that track ever again," and the "last time they had them on the track was in the mid-'80s," he guesses.
You can catch a couple video views — a wide take from the stands followed by a slightly cock-eyed GoPro cam view through the windshield (turn head to the left) — below.
So far so good on preps for racing, says Morgan: "Tire speed was about 100 mph," though he doesn't know "if the truck was doing 100," as it felt like the tires spun all the way down the straightaway. All in all, it was good to get out on a track and get up to speed: "If we're going to break something I wanted to break it now," with plenty of time to fix things up before the first race late next month in New Jersey.
[youtube ki5p2-uOOWI nolink]
[youtube XVEFiWM8Q9s nolink]
Hear our podcast update with Morgan from last month below.