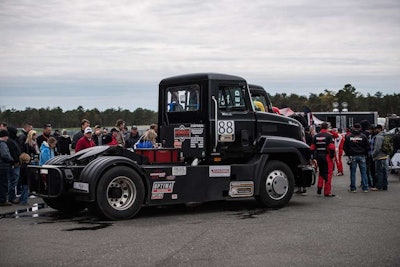 There was a bit of added excitement to an otherwise normal Sunday when I reached out to Mack of Nashville diesel tech and independent Class 8 race team owner-driver Mike Morgan via text message last night. "Results?" I asked simply.
The reply duly came: "We won!
If case you missed the news earlier today, Morgan came out on top of the points standing after a first-place finish in the final race Sunday, along with first- and second-place runs in some of the other four heats.
Morgan's story is a particularly special one, given the help he's gotten from individual independent truckers who've responded to his one-man-one-truck, largely sponsor-less dedication to seeing the race series through. Stunt racer and ChampTruck principal Mike Ryan had this to say about Morgan in a Facebook commentary under news of Morgan's win yesterday on Morgan's Facebook page: "Mike was the first racer to believe in us as an organization and the first to build a truck. His Mack was the class of the field this weekend at the New Jersey Motorsports Park and he richly deserves his wins. On behalf of ChampTruck, we congratulate you on building a class truck and turning a top notch driving performance. We are proud that you chose to be a part of Champtruck and it was a story book event to have you be the overall winner and points leader."
Run through parts of my conversation with him this morning on the weekend racing action — and the series' future — in the podcast below, and you can take a look at all of Overdrive's ChampTruck coverage via this main hub.
Podcast: Play in new window | Download