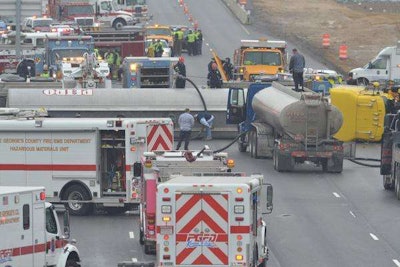 Ugh, this dope. RT @WTOP: Car driver charged in crash that overturned tanker on I-95 https://t.co/YsS0vIIIeo pic.twitter.com/ajD2QvkzVd

— Chris Russell (@Russellmania980) March 11, 2015
The news in the tweet above came in yesterday following an accident that overturned the biodiesel tanker shown above, spilling fuel and shutting down I-95 in Laurel, Md., on Tuesday. Truck driver William Gorman emerged unhurt from the scene. Here's local WTOP radio's description of how it happened:
The police say that [Christopher] Rhodes' Ford Focus abruptly changed lanes on southbound 95 near Md. 198 at about 10:30 a.m. and struck a Chevrolet Malibu driven by Jamie Smith, 34, of Aberdeen, Maryland. William Gorman, 32, of Westminster, Maryland, driving the tanker, tried to avoid both cars, but hit the Focus, turning over and in the process sideswiping a Nissan Altima driven by Ryan Keiser, 24, of Reisterstown, Maryland.
Catch a slide show of the scene and more from WTOP at this link.
23-year-old Rhodes, ultimately, was charged with "following too closely, reckless driving, an unsafe lane change and failure to control speed to avoid a collision," the station reported.
"Every once in a while they get it right in the end," wrote Eddison Crooks of Cowan Systems in his email to me yesterday, sharing the news.
Rolling CB Interviews playlist updated
If you missed Big Rig Videos' Chris Fiffie's short film about the Wildwood, Fla., weigh station in my Tuesday post to the blog, get over there and check it out.
While putting it together, I took some time to update Overdrive's Youtube playlist of all of Fiffie's innovative "Rolling CB Interviews" with operators, combining well-done highway footage with audio of Fiffie's conversations with the owner-operators, conducted at the office, as it were — over the CB radio.
If this is your first introduction to Fiffie's work, I'd recommend clicking back through this link for this 2014 profile I wrote about how he came to be doing these interviews. The rest of you: Enjoy the vids below, starting with the most recent in the Rolling CB playlist.
[youtube YYl47kl6gu0&list=PLc1lg9rs1dUAOR6ucaTlZJLb0aQlVoMEn nolink]