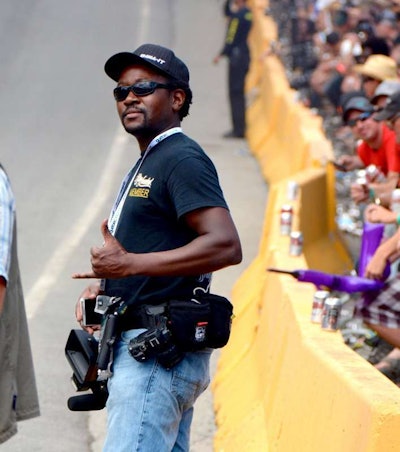 No doubt many of you have heard his voice — in addition to his work producing DVD videos from a wide array of truck shows around the nation for 4 State Trucks and the Chrome Shop Mafia, videographer/producer Chris Fiffie (pictured above by Franck Beaudoin at the Rodeo du Camion truck drags up in Quebec) has made even more of a name for himself conducting what he calls "rolling CB interviews." Among other of his more straight-ahead, well-done operator interviews and truck-show footage posted to his BigRig Videos Youtube channel, you'll find several in which Fiffie conducts the interviews rolling down the road as the featured owner-operator talks to him via the CB.
The Orlando, Fla.-based former professional driver is up to 18 total vids in his Rolling CB Interviews series today, many with operators he's met on the show-truck circuit, whose trucks might otherwise rarely get seen by the community of haulers around the world doing what so many do when the shows end — work. "I really wanted to be able to give them the mic and to be able to speak their minds," says Fiffie. But also, his reasoning on launching the project went: "Wouldn't it be great to show some of these trucks at work, functioning on the job, on the highway – combine that with giving the drivers the ability to have a conversation and say something that would benefit someone else.
"I did it because I thought it was cool, but it seems that a lot of people enjoy watching those." He's not the only one, indeed. His BigRig Videos Youtube channel, which dates back several years at this point, has more than 17,000 subscribers. (By comparison, Overdrive's own sits a little above 2,000); his Facebook page is coming up on its first anniversary September 30, and in just that short time he's already close to 130,000 followers there.
"He's got a unique perspective and seems to be covering the industry from an angle that owner-operators are hungry for," says 4 State Trucks' Bryan Martin, for whom Fiffie has been producing video coverage of a variety of truck shows around the nation, his most recent DVD from the 2014 WheelJam event in South Dakota. "He's gotten everybody's attention and put a lot of smiles on people's faces." Find all of his vids via this link to the DVD page in the 4 State Trucks.com store.
Developing the Rolling CB Interviews series idea, Fiffie figured out a way to mitigate noise issues from his side of the interview with high-grade NASCAR-type noise-canceling technology. And once he got the connections between his sound equipment and the radio right, he tested the system for the first time as part of the Street Petes Convoy of operators to the 2013 Richard Crane Memorial Truck Show in St. Ignace, Mich., filming from the back of a pickup, and the results were spectacular:
[youtube 89pMfkkqwh4 nolink]
After the Street Petes Convoy he returned to Florida and refined the process to allow for hands-free filming while driving and a steadier video image. The rest is recent history, as they say. If you're out at the Guilty by Association Truck Show at 4 State in Joplin this weekend, keep an eye out for the man with the camera.
Also watch for more Fiffie relative to safety — Troy Huddleston, during his Rolling CB Interview with Fiffie, mentioned the "Move Over Law." Fiffie thought it was a safety factor that needed additional attention and could be spread via social media. Subsequently, the Florida State Highway Patrol has given Fiffie permission to produce a film that emphasizes the roadside dangers that Troopers and tow truck drivers face.
For now, Overdrive has put together a playlist of all of Fiffie's Rolling CB and other operator interviews from the past year that you can take a tour through yourself below. The list starts with the most recent interview, with Rollin' Transport's Kevin Pascavis in a truck you may well recognize. Enjoy:
[youtube 9DTvl6krfME&list=PLc1lg9rs1dUAOR6ucaTlZJLb0aQlVoMEn nolink]