Attendant to the Aaron Tippin/Tony Justice recording session I wrote about a week or two back, I had the rare opportunity to see Big Rig Videos' Chris Fiffie at work in person. The day after the Wednesday session in Nashville, Fiffie, Justice and Tippin regrouped at the North Cumberland Regional Airport near Cookeville, where Tippin was scheduled that day to take his wife on her first flight-training session in a Piper Cub aircraft he utilizes for such purposes. (It's also one among several older airplanes he keeps at the airport.) In the video above, Fiffie runs through the purpose of his own trip from his native Florida to the Nashville area that week, getting footage for what will be an eventual music video for the Tippin-Justice duet on "Brothers of the Highway," the track they'd just recorded.
Cue Greenville, Tenn.-based Everhart Transportation Inc., or ETI, Justice's employer. With Justice in Nashville care of his and Team Justice leader (and Tony's wife) Misty's personal pickup, ETI owner Cline Everhart and his son (also Cline) drove a fleet flagship of sorts — the 2007 KW W900 pictured — as well as Justice's typical ride (the 2006 Pete) down from Greenville.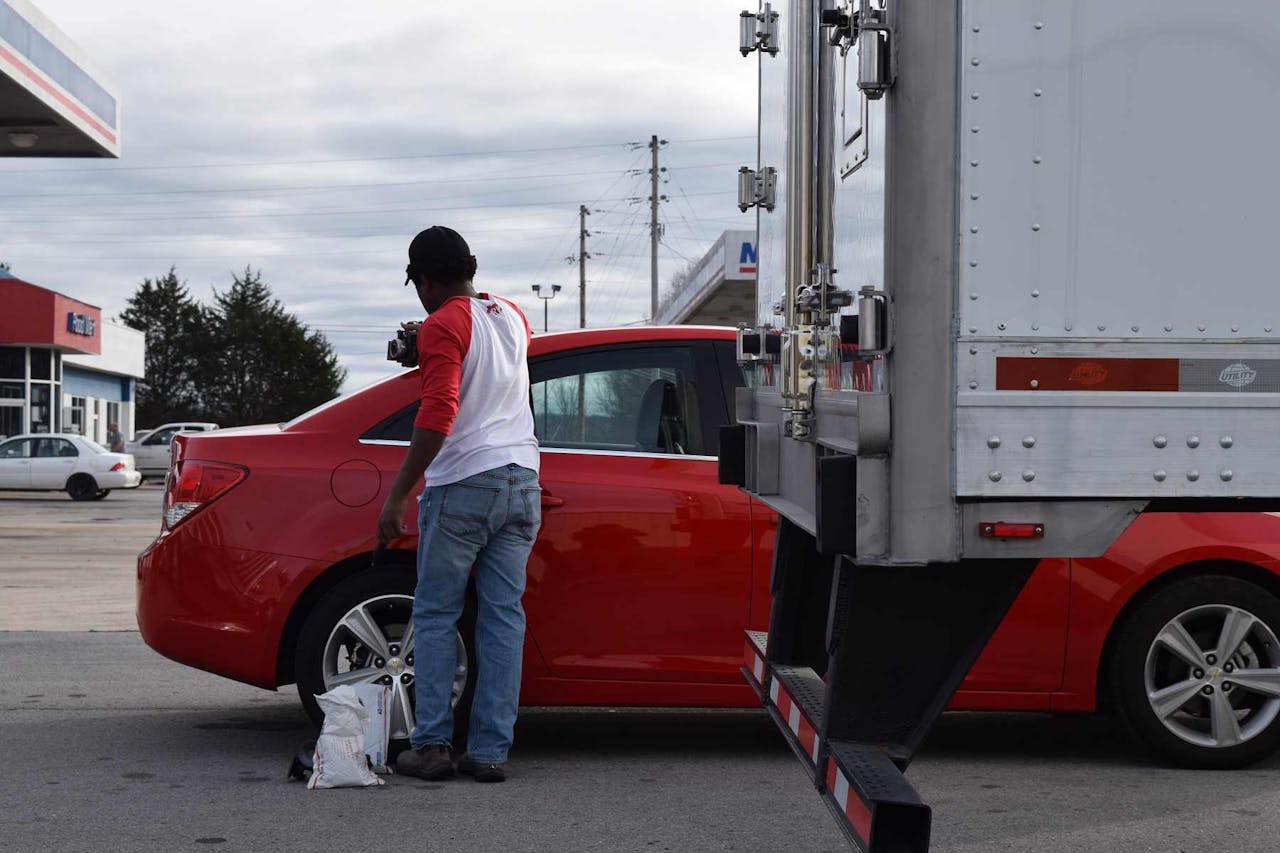 Fiffie then worked his magic capturing footage of Tippin and Justice behind the wheel, as well as plenty on-the-road camera work. If you've not been a fly on the wall for what Fiffie's been up to the last few years with his Rolling CB Interviews with operators and so much else, run through our playlist of some of his work at the bottom of this post. As have been many readers, no doubt, I know I've been a big admirer of his work to date — it was great being on hand to see him go to work.
Catch more from the day via the pictures below as well.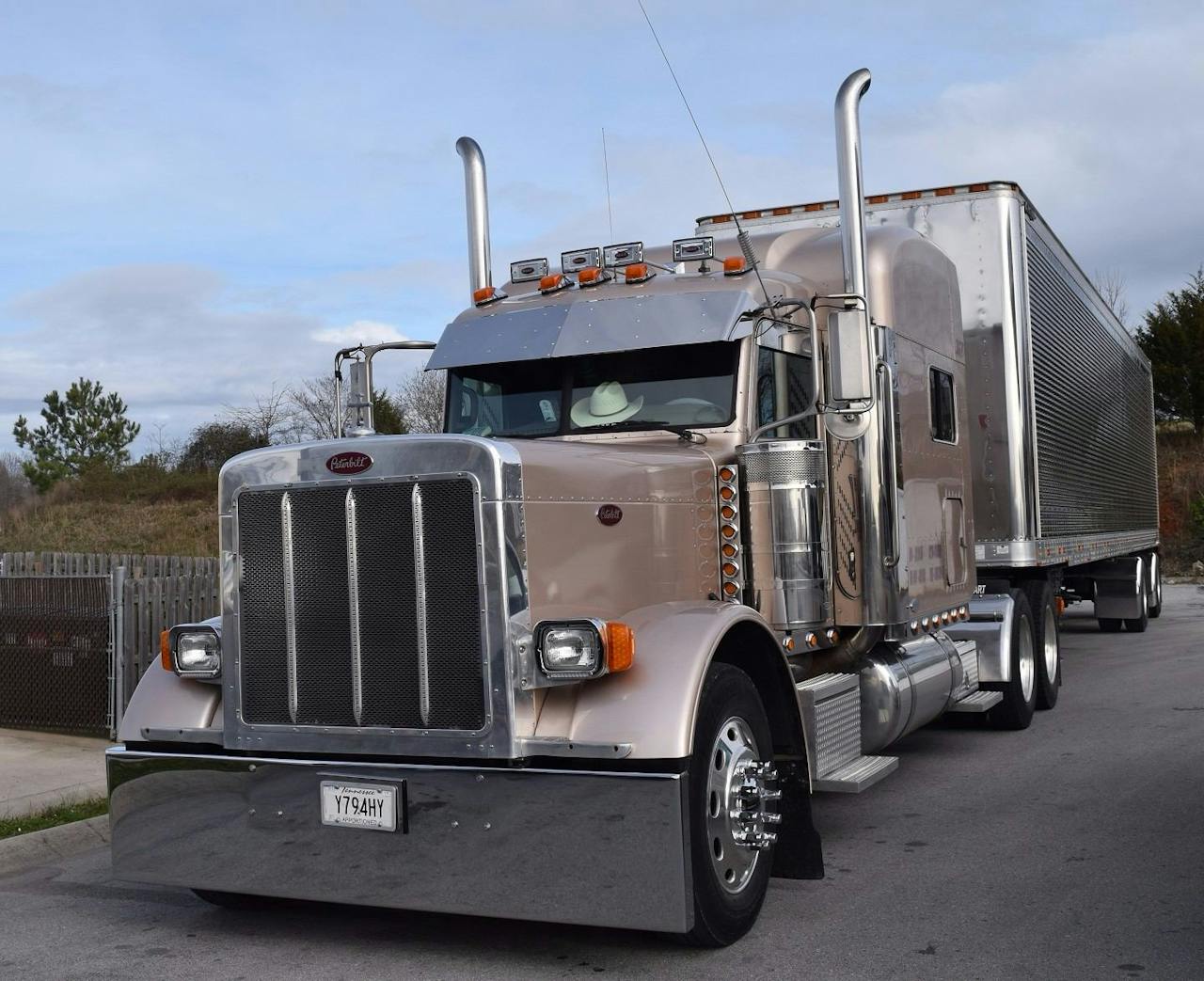 Justice's 2006 379, his trademark cowboy hat visible on the dash below.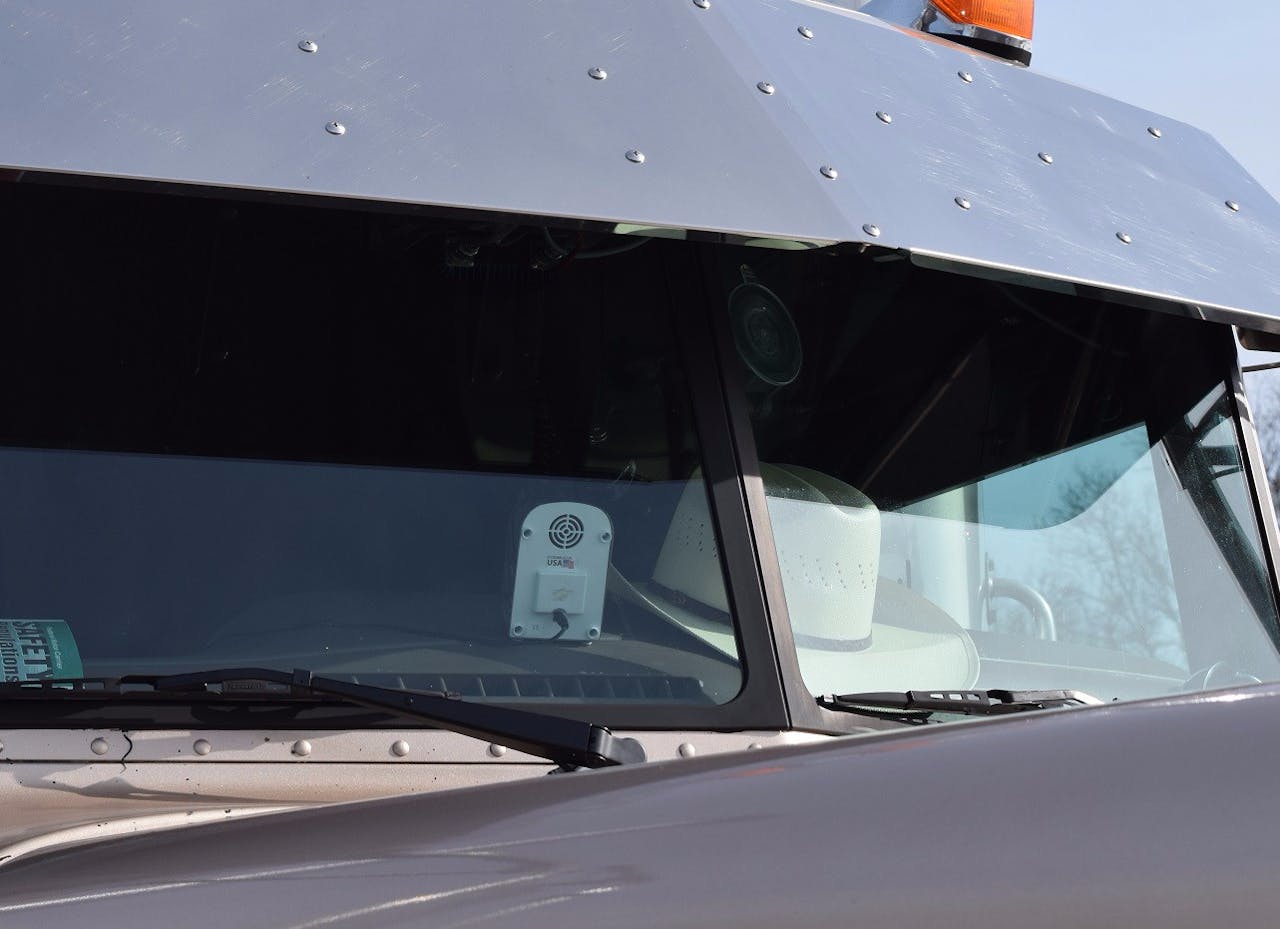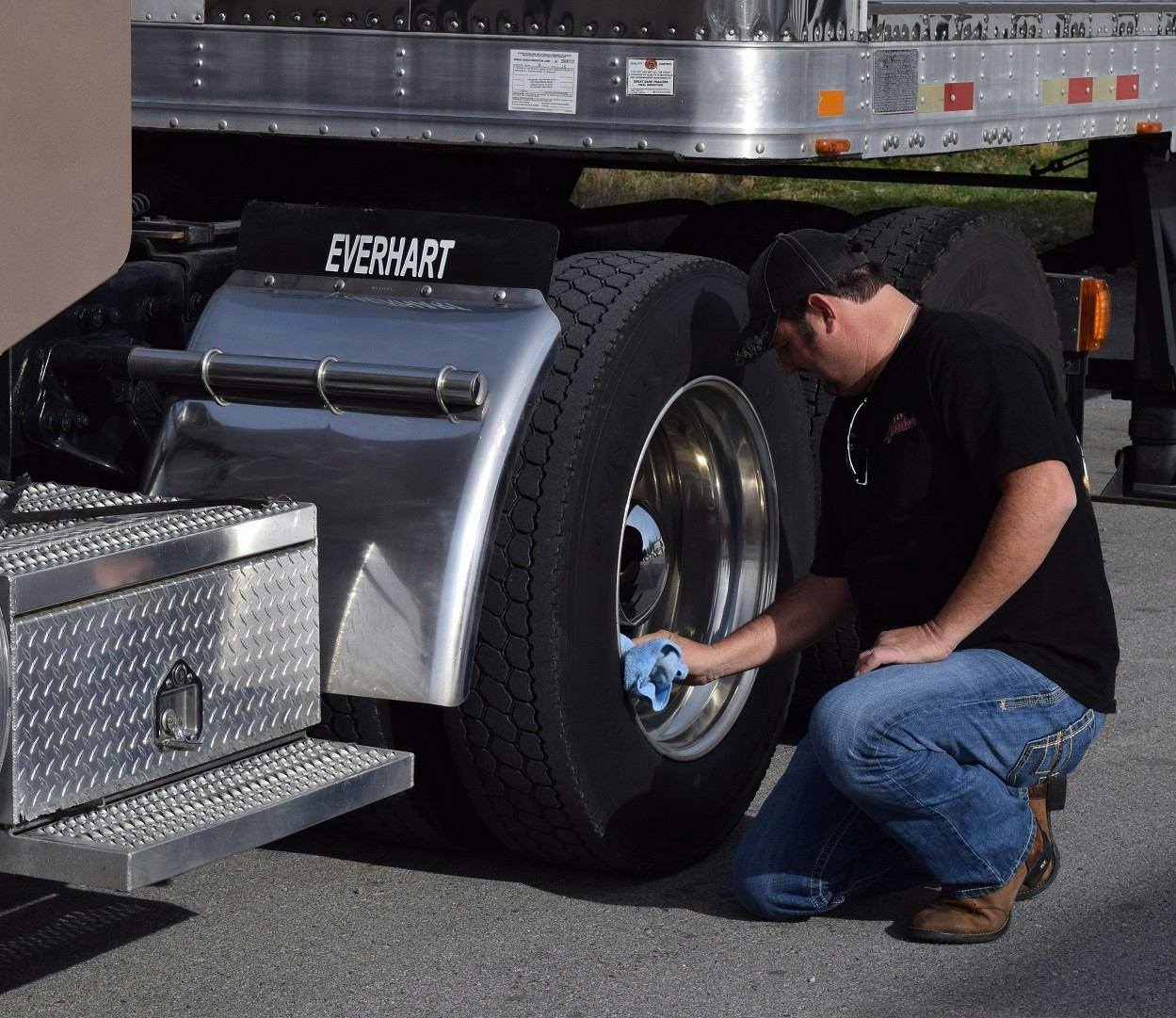 Staged at a small Marathon truck-stop just off U.S. Highway 70S and Airport Rd. in Sparta, Justice does a little last-minute polishing of the unit for the video shoot.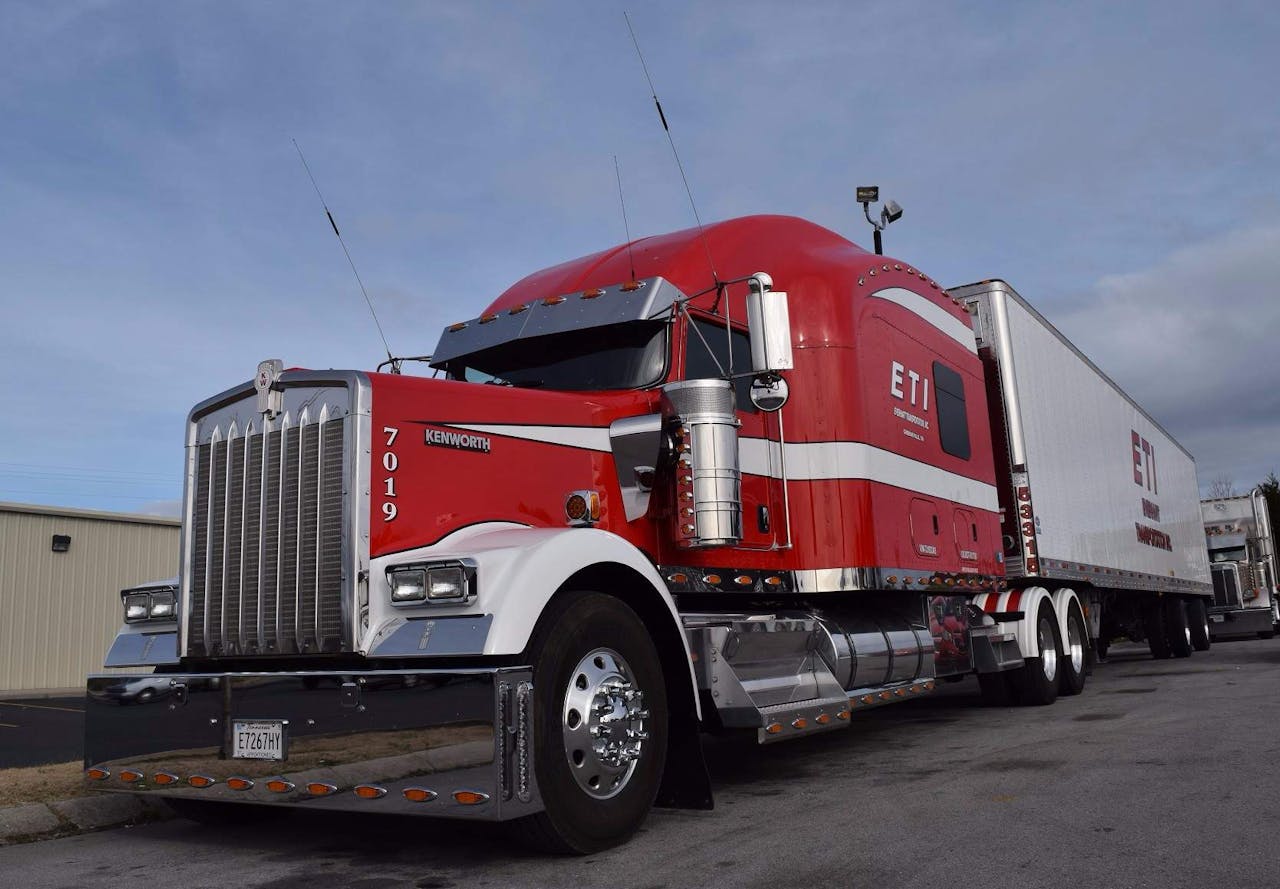 Small fleet owner Cline Everhart drove this ETI 2007 Kenworth W900 -- as with Justice's truck, powered by a Caterpillar Everhart says is "tuned a little different" -- down from Greeneville, Tenn., for the footage with Tippin behind the wheel.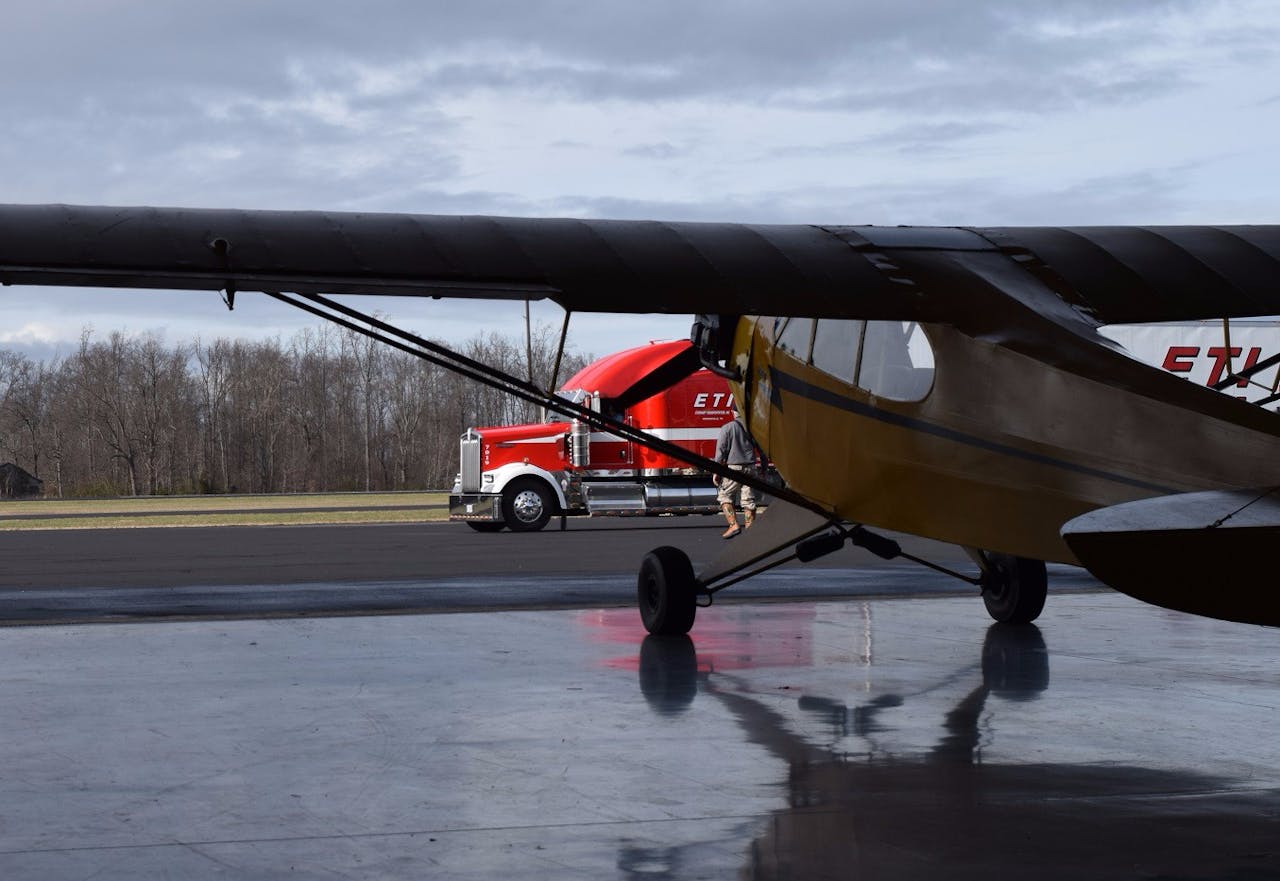 When I arrived at the Upper Cumberland Regional Airport, Tippin and his wife, Thea, were preparing this antique -- but no less air-worthy -- Piper Cub for their training session, wiping down the glass around the cockpit, etc. Another Cub, among other small planes, would take off over the course of the next hour or so of filming on and around the runway/taxiways.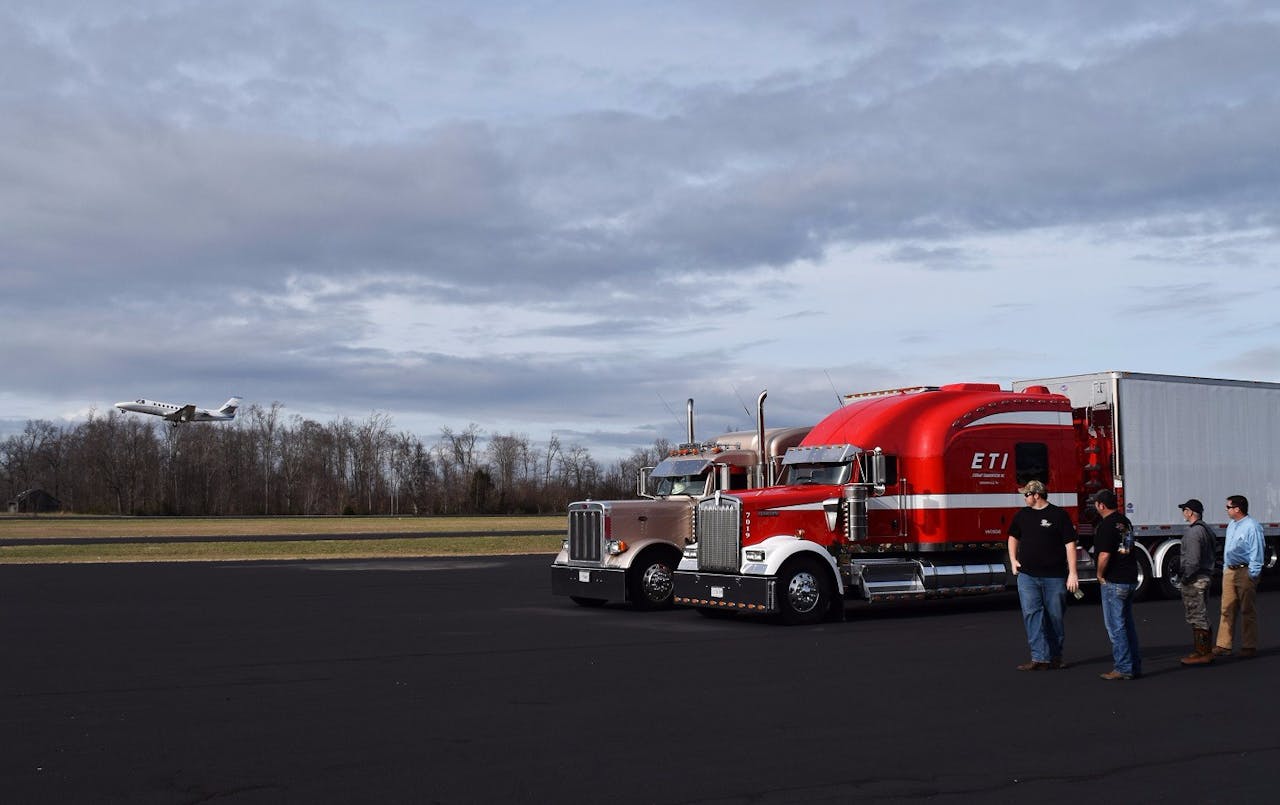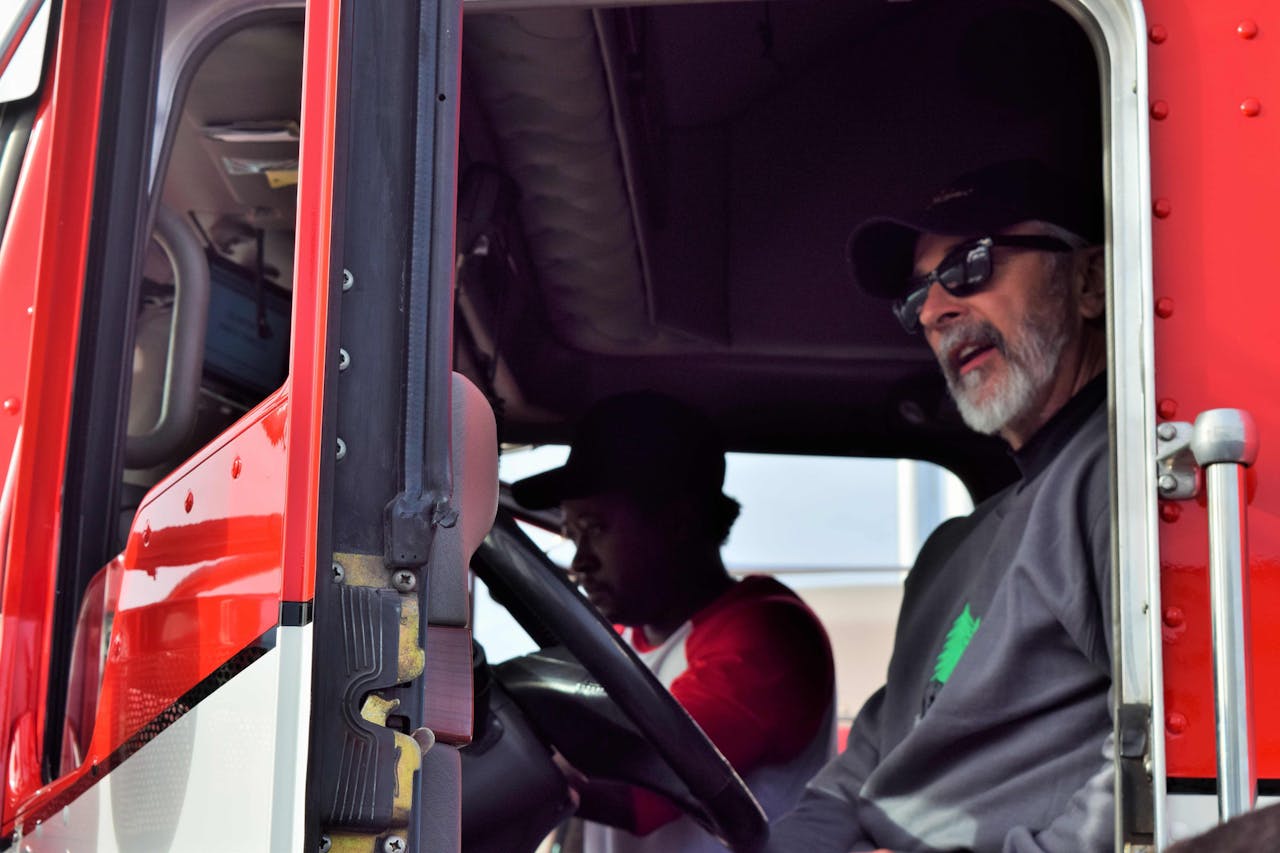 Aaron Tippin assumes the driver's seat, a bit out of the ordinary for him these days, he said -- he maintains his CDL these many years after he drove over-the-road for a time before aviation/music careers took off. But his driving of late has been confined to a Detroit-powered tour bus, by and large.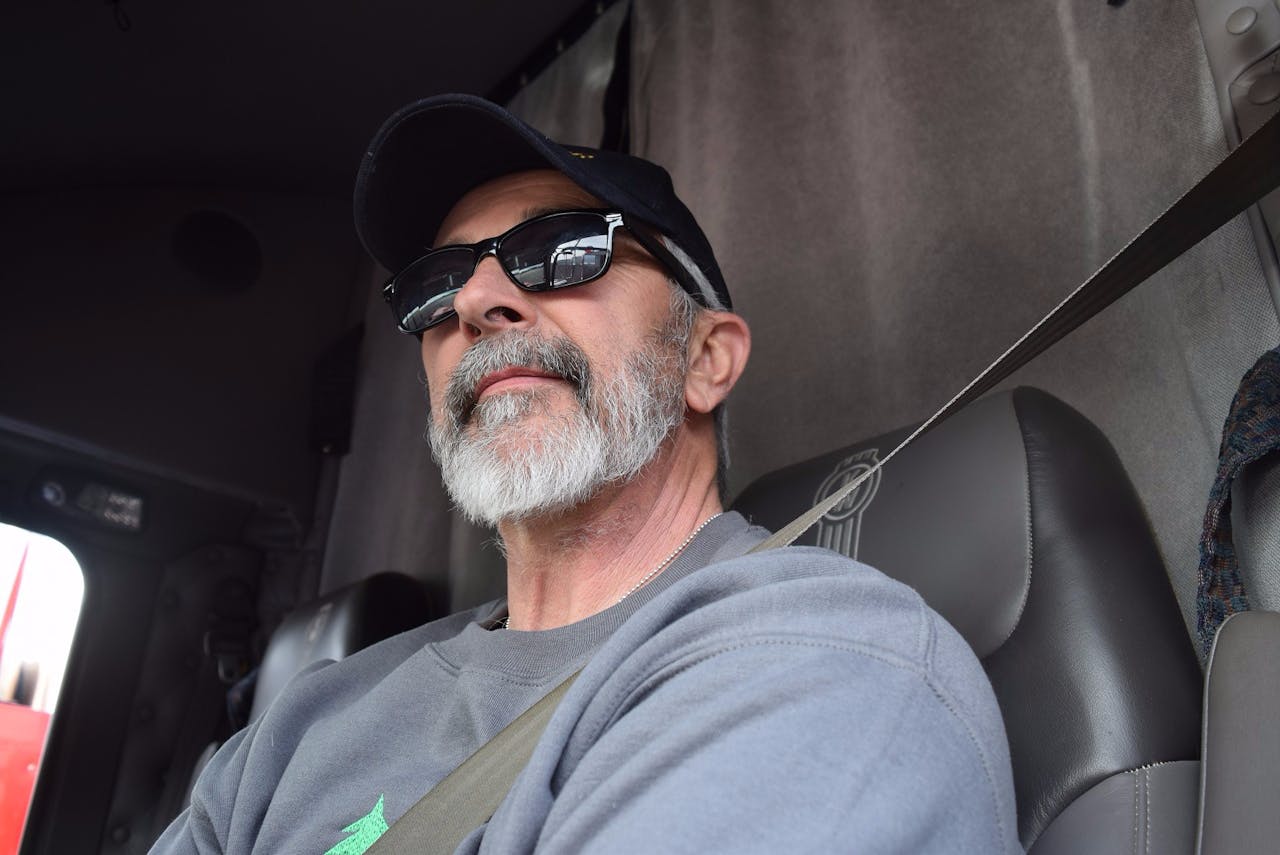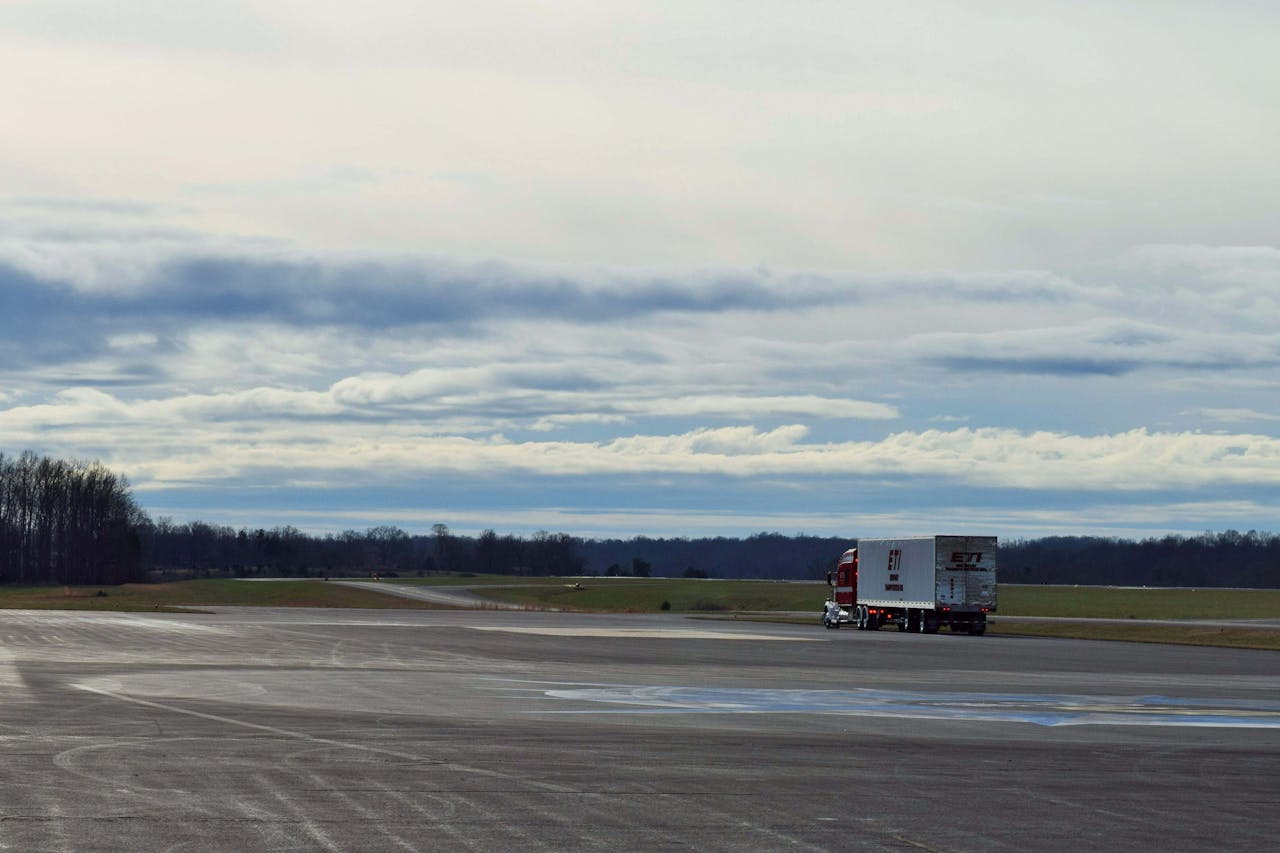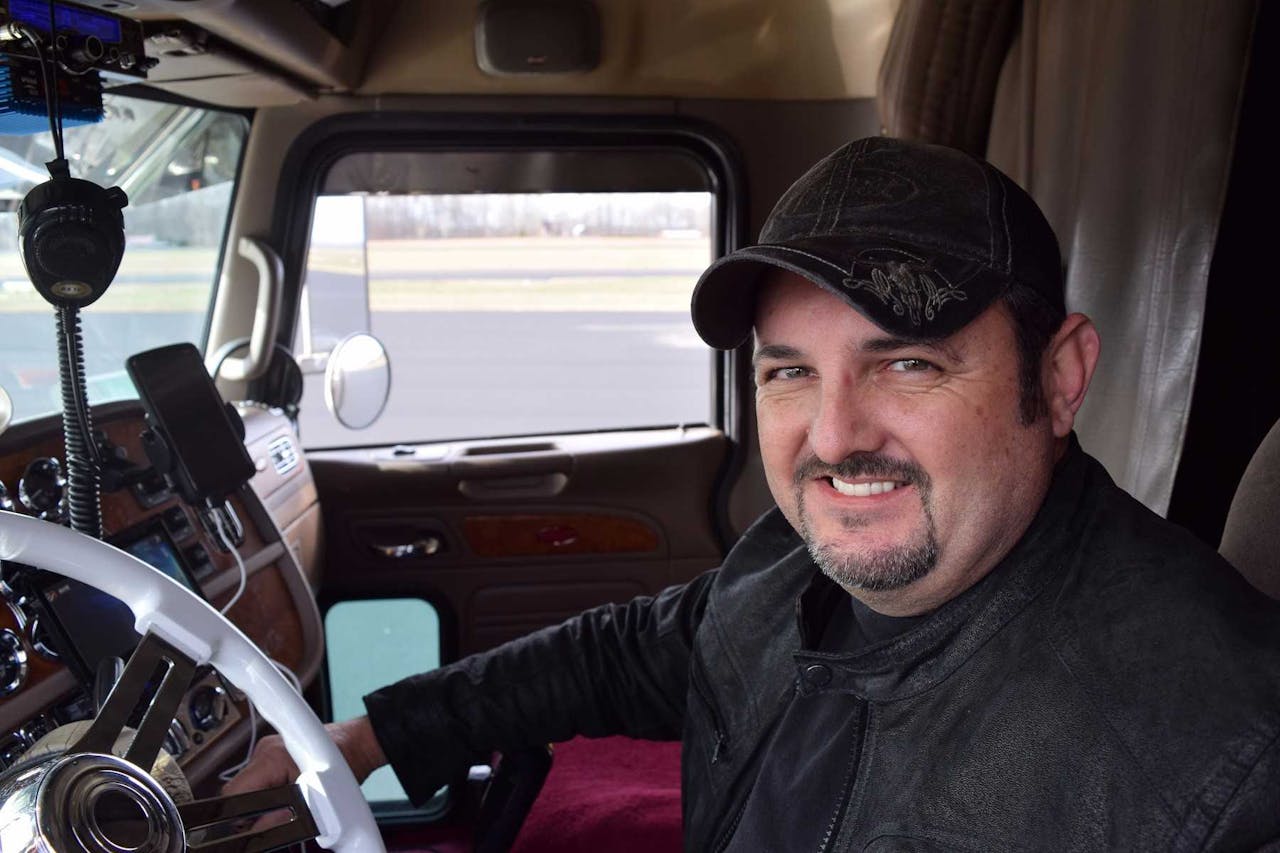 Tony Justice bided his time in-cab, giving me a little bit of preview of the rough mix of the upcoming "Brothers of the Highway" record as Tippin rode the runways. Verdict on the mix: Sounds great pumping through the Pete's sound system. I think it's safe to say any fan of his music thus far will see this one takes things to the next level.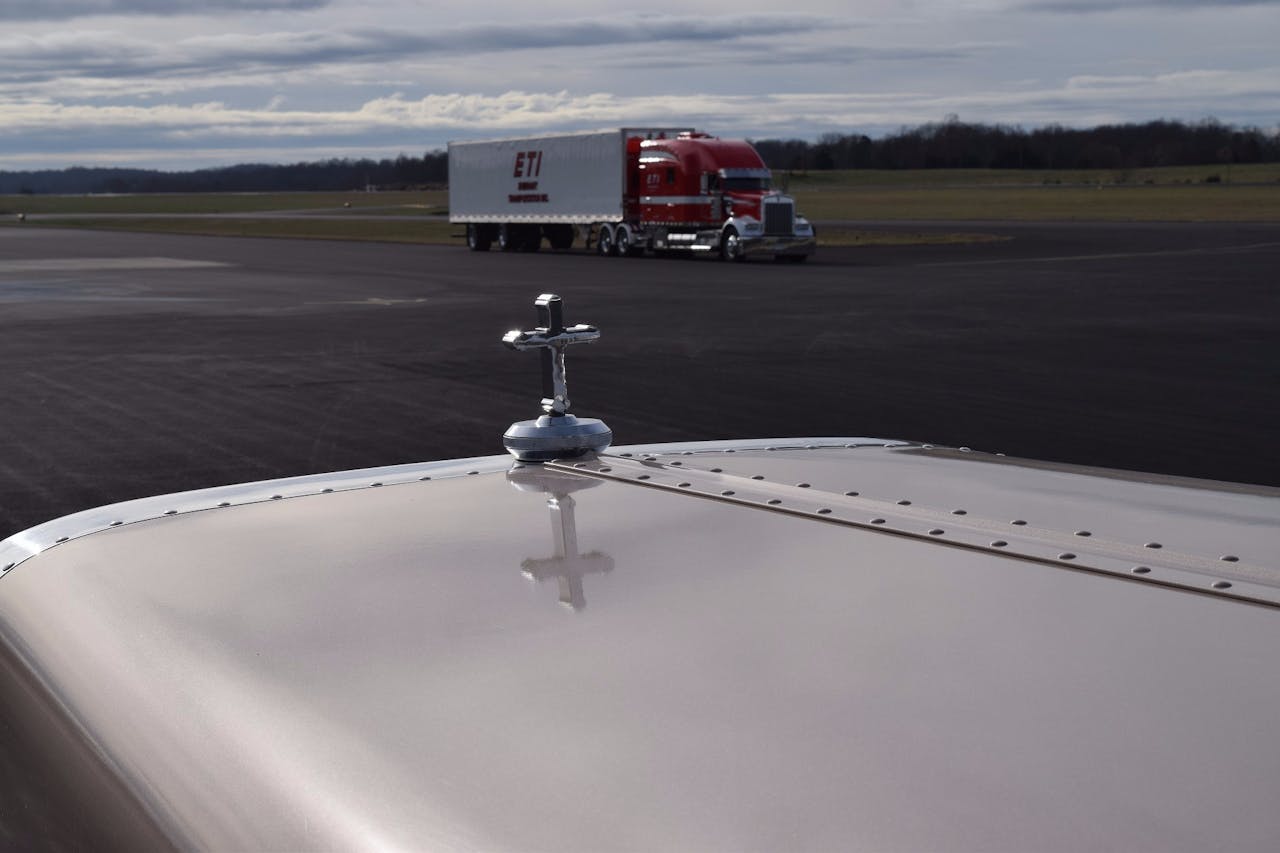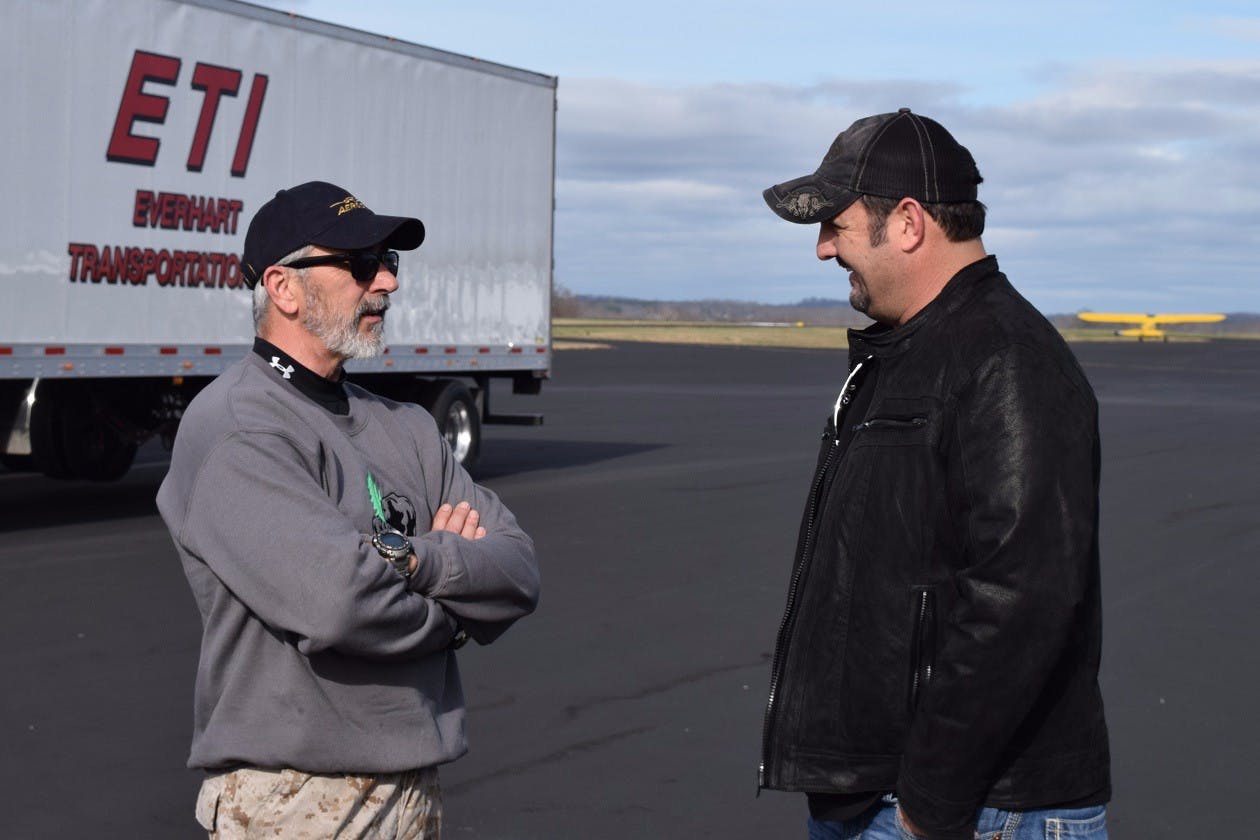 Justice and Tippin talked shop -- music -- a bit throughout the time, and at a certain point, Justice made the observation that, as with many such runs from point A to point B, his long haul toward what success the trucker's seen to date as a songwriter and performer has been one of those "the journey is the fun part" kind of rides. Once you get there...." he said...

And Tippin finished it for him: "... it's just a business."

At once, Tippin added, "I love the music, the songwriting."

His ultimate advice for Justice? Keep "enjoying the ride."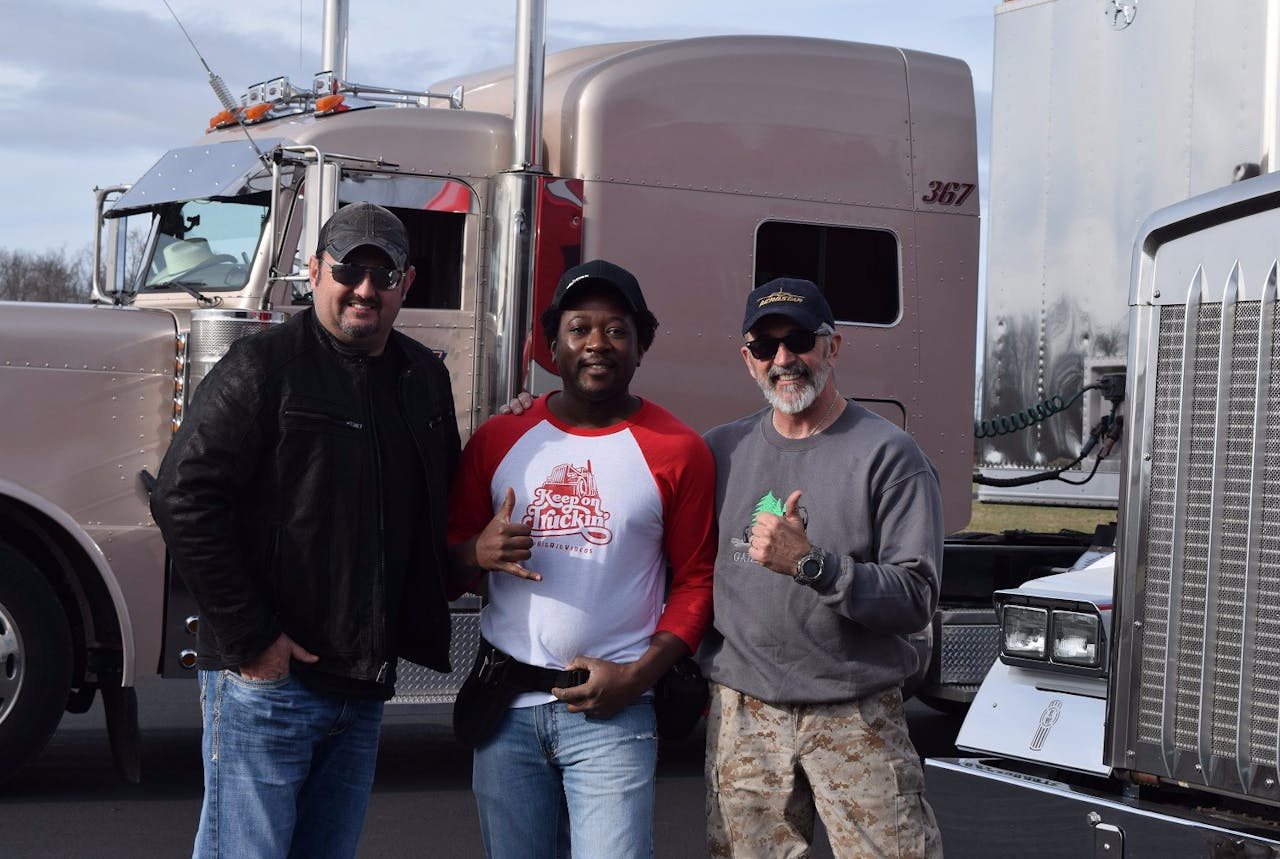 From left: Justice, Fiffie, and Tippin.