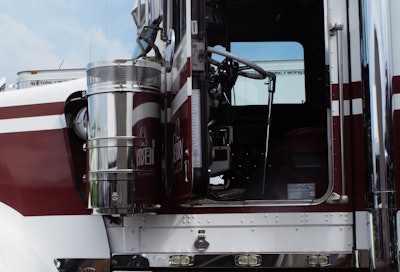 The 1995 KW of Crossville, Tenn.-based owner-operator J.D. Terry above he calls the "Driveway Dream," which regular readers will remember from coverage earlier in the week. Terry did pretty much all of the work put into it prior to showing it a couple weeks back at the Tennessee edition of Pride & Polish himself — in the driveway at the house, as it were.
The truck was more or less as it'd come from the factory to its single owner in Jackson, Tenn., when he bought it several years back, but for a new white paint job, Terry says. But as he also notes in the video here, when he wanted to get the wind rash out of the breathers he turned to Pieter Williams and his Almost Chrome custom polishing business, built originally to serve the large cohort of motor coach companies in and around Nashville, Tenn., near which he's based.
Williams has since moved into trucks more and more, where he initially found that his customary technique, the tools and methods he brought to a typical motor coach, was lacking. Part of that is the level of restoration required for many working trucks, given that "bus wheels are polished regularly" by and large, but many a truck's bright parts go much longer without new shine, necessitating more work.
Starting out, he says, "It took me two days to do a 379" top to bottom. Today, after much experience and help from those in similar work, "it might take four hours."
As for his work around the region and nation during the truck-show season, he says he's loving "getting to meet the diversity of people among the drivers. They're phenomenal — and a lot more laid back" compared to what he's used to in the day to day working motor coach.
Find him via the Almost Chrome Facebook page.
Oh a-and I was reminded by Terry when we talked at the Crossville Pride & Polish that it'd been a little while since I updated Overdrive's Youtube playlist of Big Rig Videos' Chris Fiffie's awesome Rolling CB Interviews.
After the Wildwood, Fla., Pride & Polish this past April at the 75 Chrome Shop, Fiffie and Terry shot one with Terry's KW on I-75 headed north away from the show. You can catch a glimpse of Terry's truck (looking good) among other familiar rigs in this "Fire It Up" teaser vid Fiffie's running currently at Big Rig Videos' Youtube channel showcasing some of his work to come.
And that playlist? You can run through Fiffie's most recent, and other, Rolling CB interviews below: