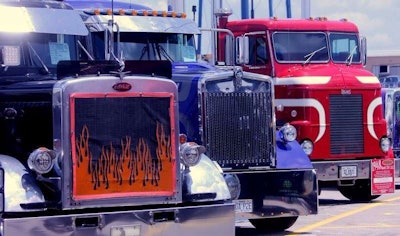 Iowa 80, the self-deemed World's Largest Truckstop, drew more than 40,000 truckers to the 2015 edition of its annual Walcott Truckers Jamboree trucker appreciation event.
Visitors came from 21 different states and three Canadian provinces to display their trucks, Iowa 80 says.
During the three-day event, attendees could check out over 150 exhibits, a Super Truck Beauty Contest with 67 contestants, an antique truck display with more than 150 vehicles, the Iowa pork chop cookout, Trucker Olympics, carnival games and free concerts.
The Iowa 80 Trucking Museum also celebrated the 100th birthday of its 1915 Mack AB during the Jamboree with birthday cake and balloons at the museum.
Check out the photo gallery below, compiled from photos from Overdrive sister publication Truckers News.
Or click any of the links below to see coverage from Truckers News:
Jamboree allows Highway Hank to reconnect with his first 'Hilton'
Seen at Walcott Truckers Jamboree Friday
Dogs of Walcott: Truck drivers bring canine pals to Jamboree
See some of the trucks at Truckers Jamboree