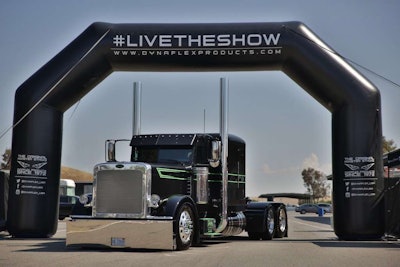 Fitzgerald Glider Kits brought the ideas and the plan, and Rabbit River Transport's Eric Hassevoort brought the truck, the will to show it and years of experience to the custom build of "After Midnight," a 2015 Peterbilt 389 working show truck.
The joint effort proved worth pursuing, as the 389 glider spawned from the partnership has put up quite a showing on the Pride & Polish circuit since its unveiling last March.
"After Midnight," as Hassevoort named the green and black Pete, runs the custom truck accessory gamut, from the exterior's custom fenders and visor, flip bumper, aftermarket exhaust system and one-off deck plate to an interior that was pulled apart and rebuilt immediately upon its receipt to match the Fitzgerald-Hassevoort team's plans.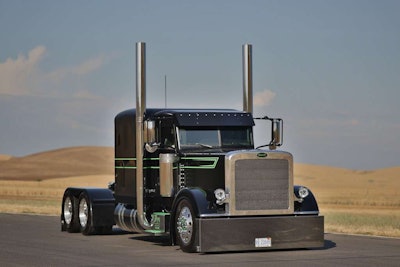 But it's the rig's paint job that sets it apart on the show scene, says Hassevoort. Inside and out, thin green accent lines separate two different blacks, one with a flat finish and one that's shinier.
A local shop near Hassevoort's Highland, Mich.-based 45-truck reefer fleet applied the paint job, and the rest of the work was split between Rabbit River's own garage and a local dealership.
Midnight's origins, however, came from East Tennessee, where Fitzgerald's runs its multi-town glider kit manufacturing operation. Fitzgerald's former marketing manager, Brian Bourke, initiated the show truck partnership.
"He (Brian) came to me and said, 'I got this idea for a truck, and I want you to show it,' " Hassevoort says. "From there, we kind of built it together."
The custom Pete was introduced at the 2015 Mid-America Trucking Show in Louisville, Ky., but it went on to win Best of Show at two Overdrive's Pride & Polish shows last year and was a finalist in its category in the 2015 Pride & Polish National Championship held at the Great American Trucking Show in August.
Hassevoort's been showing trucks since 1999, starting with a '99 Western Star, his first truck as an owner-operator. His brother, Jeremy, also has shown trucks and last year picked up his own Pride & Polish Best of Show with his gold and white 1986 Peterbilt 359 and matching Utility reefer dubbed "Gold Digger."
Both rigs work full time in the family's reefer operation, mostly hauling meat and cheese nationwide. They pull the rigs off the road about 10 days before each show. "We pull them in the shop, put them up on jack stands and tear them completely apart and clean them from the inside out," Eric says.
The brothers work for their dad, who started Rabbit River in 1992. Though running nice equipment comes with its own perks, showing the rigs draws Eric to custom truck building just as much as the trucks themselves.
"I do all this for the fun of it," he says. "Meeting the people, the pride of riding around in it – the rewards are good. There's just a lot of cool stuff you get to do that you don't get to just driving an old company truck."