Texas-based owner-operator Sean McEndree worked with DB Kustom Trucks on this spectacular military-tribute rig, a frame-up build of a 2006 Peterbilt 379 powered by an Acert Cat C15 with no shortage of modification to it. McEndree describes what led to the total overhaul of the custom unit, marking his return to trucking after gaining custody of his twin sons some years back now and taking time away from the road.
I caught up with McEndree at the Joplin, Mo., Guilty by Association Truck Show, where I was glad to see him — I covered his prior rig, Fallen Heroes 2 (archived story at this link, no pictures though), at the 2007 Great American Trucking Show edition of Overdrive's Pride & Polish, and though we'd spoken on the phone during the long time since then, I don't think we'd run into each other again since. I noted the new "Band of Brothers"-themed bobtail at the Great American Trucking Show this year, where it scored a first in its 2006 and newer bobtail class, but I wasn't around the truck at the same time as McEndree.
Fortunately, we were able to talk long enough in Joplin for me to be able to put together this look at what is a great tribute to military veterans around the nation.
Others McEndree worked with, many donating pieces of the puzzle that is the tribute rig, included Dynaflex for the "Ozzie cut" stacks, McEndree says, plus General tires and Road King shocks, Roadworks, Bostrom and …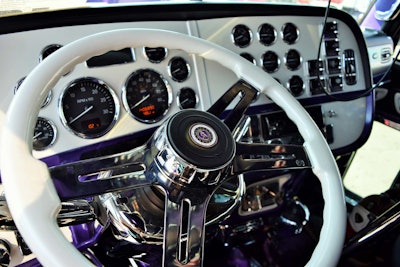 And plenty of interior pieces by Rockwood.
Among others … McEndree was also a part of the "Stars, Stripes and White Lines" convoy and music video shoot for Tony Justice's song of the same name honoring military veterans the day after the 4 State Trucks show ended. Read more about it at this link.