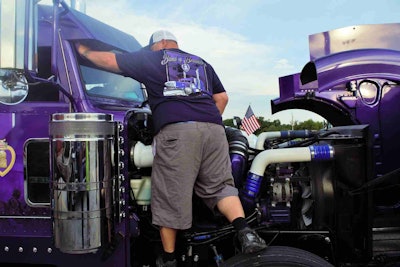 Today is Veterans Day, the national holiday set aside originally as "Armistice Day" on the first anniversary of the 1918 end of World War I. In the 1950s, President Eisenhower officially changed the name to what it is today, reflecting its purpose to honor living veterans who served their country in the armed forces.
In the midst of all the rancor around the presidential election this year, two truckers among many others have pressed on with efforts aimed specifically at a goal similar to that the national holiday, which regular readers well know. Neither of the truckers, Everhart Transportation driver Tony Justice and owner-operator Chuck Timbrook, are veterans themselves, but both bring a clear message to those among you who've served. It's a message we can endorse. Here's a big thank you for your service.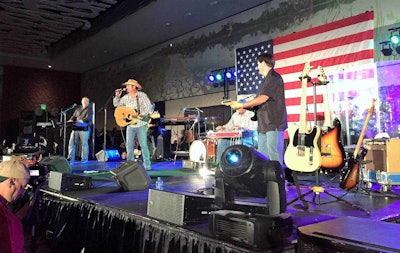 Find above scenes from the music-video shoot of Justice's "Stars, Stripes and White Lines" song, forthcoming in the new year with official release. Backing the scenes is audio of the track from Justice's Great American Trucking Show performance of the song. For the shoot, he and Big Rig Videos videographer Chris Fiffie brought together several owner-operators, many of them military veterans themselses, for a convoy and rolling shoot.
Today, Fiffie, released a bit of a preview of the music-video-in-the-works with rolling footage from the shoot: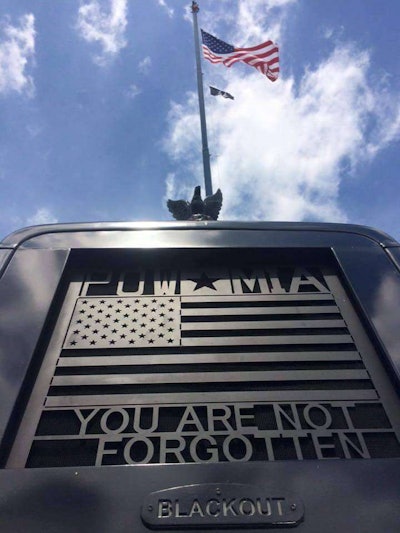 Similarly, owner-operator Timbrook has been a fixture at veterans support and recognition events through the region around his W.Va. home with his 1999 Freightliner Classic "Black Out" custom military vets tribute rig, even today as he continues to bounce back from late-summer heart surgery.
Residents in Maryland, Pennsylvania and West Virginia have opportunities to see the truck at the following events.
Today, Timbrook and the unit are at Mission BBQ at the Hagerstown, Md., Valley Mall, as the restaurant is feeding all veterans free of charge.
Remainder of November:
19th: A three-Christmas-parade day for Timbrook and Black Out — Greencastle, Pa., in morning; Waynesboro, Pa., in afternoon; and Chambersburg, Pa., in the evening.
December:
2nd: Williamsport, Md., Christmas parade
3rd: Both Charles Town and Martinsburg, W.Va., parades
4th: Inwood, W.Va., Christmas parade.
More in depth about the Justice convoy participants and Timbrook's efforts can be found in these stories: