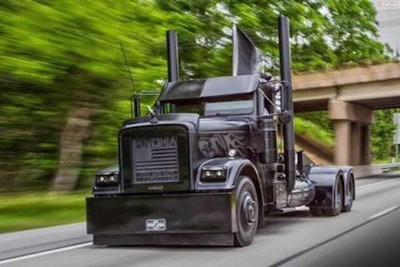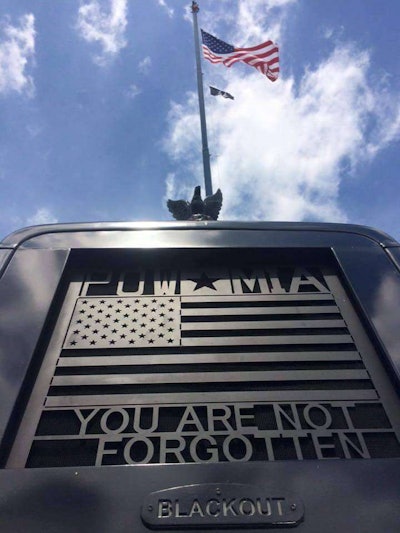 About a month ago, Martinsburg, W.Va.-based owner-operator Chuck Timbrook, best known for his Black Out custom 1999 Freightliner military veterans' tribute rig (that's its grille above), was embarking on a brief family trip to Morgantown with his wife and daughter when he turned to his wife and told her he just didn't feel up to it. They turned around and, at the doctor later, things moved quickly.
Next thing he knew, Timbrook was on a gurney and being loaded onto a helicopter to shuttle him to University of Maryland hospital in Baltimore for open heart surgery — triple bypass. "Cholesterol and diabetes," he says, had resulted in almost total blockages in the blood vessels to his heart.
Four weeks later, though, things are proceeding well, Timbrook reports, though he'll be down from his regular run commercially for at least seven more months. "They told me I wouldn't be able to drive for seven-eight months," he says.
But it won't keep him from making good on the Christmas-season parade schedule he'd planned with his increasingly popular working truck. He's managed to fill a schedule from late October to early November throughout his three-state region: West Virginia, Pennsylvania and Maryland.
All of it during his recovery, he's quick to note, has been made possible by the support of friends, many he didn't know he had, in a certain sense. As social media has delivered the remarkable story of the project that is his truck among U.S. military veterans, truckers and others over the past couple years, news of Timbrook's hospitalization didn't take long to reach the same community.
He explains that more than one member of his "Team Black Out," as he calls the folks who make every trip with him during his visits with the truck to veterans' centers around the region, set up Gofundme accounts to help him stay afloat with all the time off before he was even out of the hospital. In a very short time before his return home, the accounts raised enough through small donations to "pay my bills for three months," he says. "I never knew I had that much support. I never imagined they would step up for me like that. I'm tickled to death — I can't call them friends anymore, I guess I have to call them family. I have absolutely no stress right now with everything that I went through. I came home to no stress at all, knowing that everything I need for the next couple months is covered. It's awesome."
They're not the only new members of Timbrook's family, he says. That's also true for Vietnam War veteran and retiree Ed Hunt, a Martinsburg resident like Timbrook and today confined to a wheelchair with a missing limb after his service to the country.
"I met Ed at the Martinsburg bike night," Timbrook says. "The truck was in a pretty good location, and I was talking to some people when I noticed a gentleman in a wheelchair sitting beside my truck with his head down. When I walked over to him he was tearing up. He told me I could never know how much that truck meant to him." The two then talked for an hour and 15 minutes, Timbrook adds, and from there they've talked pretty much every week. Timbrook plans to have Hunt to his house for Thanksgiving this year.
It's just one of many stories that have emerged from the trucker's interactions with veterans these past years.
Black Out's near-future schedule:
October 29: Hagerstown, Md., Mummers Parade — the morning of the parade will see Black Out at the Williamsport, Md., Harley-Davidson location for their season-ending closeout and bike show. Increasingly, that location and the one in Fredericksburg (under the same ownership) are assisting Timbrook with fuel for his truck's participation in events around the region. MS Harley-Davidson in Chambersburg, Pa., too, has provided some assistance.
November:
Veteran's Day, the 11th: At Mission BBQ at the Hagerstown Valley Mall, Black Out will appear on this day the restaurant is feeding all veterans free of charge.
19th: A three-Christmas-parade day for Timbrook and Black Out — Greencastle, Pa., in morning; Waynesboro, Pa., in afternoon; and Chambersburg, Pa., in the evening.
December:
2nd: Williamsport, Md., Christmas parade
3rd: Both Charles Town and Martinsburg, W.Va., parades
4th: Inwood, W.Va., Christmas parade.