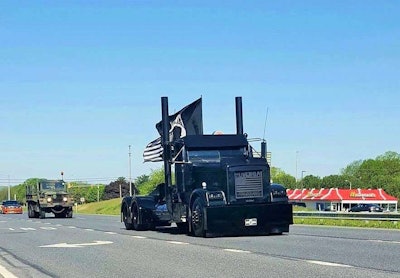 The United States Department of Veteran's Affairs surprised the rig pictured above and its W.Va.-based owner-operator, Chuck Timbrook, this weekend after yet another mission of support and appreciation of military veterans and their families centered around the Mother's Day holiday.
"I never served," says Timbrook, with whom regular readers will be well familiar by now, "but to me this is like a medal of honor."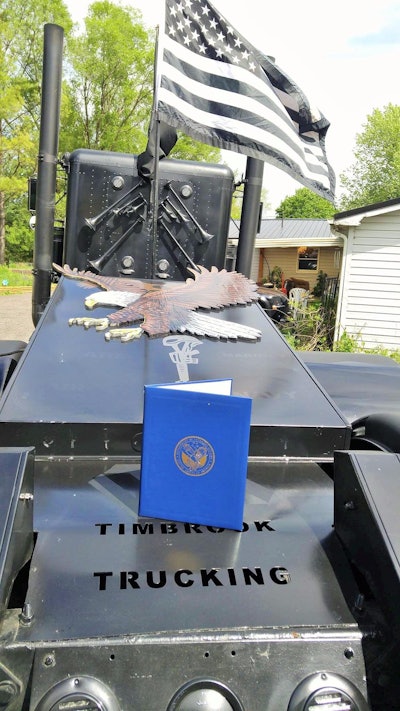 The V.A. issued this bound certificate of appreciation for his efforts after this weekend, when he, the rig and several other people to numerous to name, Timbrook says, "took long-stem flowers to each veteran mom in the Martinsburg, W.Va. veteran's center area."
Black Out was dedicated to that particular center last year, and since that time it's led at least five different parades as well as other support events.
Specifically calling out in its text both Timbrook's "outstanding support" and "tireless dedication," the certificate of appreciation "came out of the blue," he says. "To be honored by the Veterans Administration, and I never served. … It means a bunch to me and my family."
To all those, from family to friends and others, who've helped him out over the last few years on the rig, "they know who I need in this," Timbrook says. "Black Out will be the best unfunded support tribute to our heroes. My area stands behind what I do. Maryland, West Virginia, Virginia and Pennsylvania. Bike clubs all over. My brothers who watch my back. My trucking brothers who stand strong behind me. But most of all, my wife stands right to my side in everything I do. And I will not let them down."
Before the year's out, Black Out will be heading up 7 different veterans' events this year, and 8 parades in all, Timbrook says. There's also a side chance that he may make it farther afield from his immediate four-state area to NYC for Christmas festivities, too, in one infamous parade there. Stay tuned … Photos showing recent POW-MIA insignia additions on both the hood of the 1999 Freight Classic and rear mudflaps follow, along with shots from the weekend's recognition.