Regular readers probably saw the Monday announcement of a new four-episode streaming music program we're embarking on with "Big Al" Weekley as DJ. Weekley's long driven trucks and spun records, both in consummate-professional capacity, and with some inspiration from the trucker-songwriters who've been mainstays of Overdrive and Red Eye Radio's Trucker Talent Search, the series should be something special to hear.
Starting March 5 next week, stream it live every Friday during March, 10 a.m. to noon EST, via the Bluegrass Jamboree online radio network. The TuneIn app I've found works particularly well for it if you're utilizing your phone on the road for music, and the network hosts its own streaming apps for both Apple and Android devices as well -- find links to those here.
The show will be centered around music but you might just hear yourself, too. What's that, you say? Well, some of you I've reached out to individually already (thanks, Debbie, Idella, and others!) on this, and I thought I'd open it up to all.
We also want the show to celebrate the work professional drivers of all stripes do day-in day-out. And it's common radio convention, of course, to remind folks of just what they're listening to time to time through the program. In this case, we want you to do that for us. If you're up for it, dial into our podcast message line and give us a quick intro to yourself ending with this: "And you're listening to Overdrive's Music to Truck By." For instance:
Hi folks, this is [INSERT NAME OR CB HANDLE, OR BOTH!] out of [INSERT HOME LOCATION], hauling [WHAT and/or WITH WHAT?], and you're listening to Overdrive's Music to Truck By.
Feel free to embellish, to sing, to ad lib a little with more details of your operation, however you like it. The number to call is 530-408-6423.
We're looking forward to hearing what you come up with, and here's a big thanks to anyone who can make time for it. Now to the ...
BlackOut vets support heads South in March -- and West later this year
I heard recently from Chuck Timbrook, who's retired from working the road as an owner-operator with his 1999 Freightliner Classic but who continues to add to and utilize the rig as the BlackOut veterans support unit that it is. This year will mark a new chapter in his efforts with the truck, moving beyond events in his immediate four-state area – West Virginia, where he lives, Maryland, Pennsylvania and Virginia.
His first foray will take him down I-95 into Florida for the Daytona Bike Week events March 5-15, he said. "The plan is to be down there for the entire 10 days. If we do well, I'm hoping we come back and turn around" for subsequent motorcycle-enthusiast events in Nags Head, North Carolina, and Myrtle Beach, South Carolina. Ocean City, Maryland's summer-beginning classic hot rod events, too, to which Black Out's ventured in past: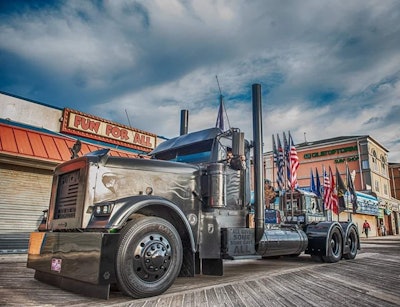 Timbrook's also planning to spend upward of a week out at the big Sturgis motorcycle rally in South Dakota later in the year. "I'm hoping that by us spreading out and doing this traveling it will help attract some sponsors," he said, adding that he truly appreciates the scads of small donors who have contributed goods or funds and continue to support his efforts. It's the 10th anniversary year" since he began building out the 1999 to what it is today with his father, a Korean War veteran who passed before he got to see what the unit would become.
Anyone interested can find more about the operation via his website at this link. Or track back through our coverage of its many modifications through the years via this collection. And if you're headed to Daytona for Bike Week, keep your eyes wide open for a look at the rig in person.