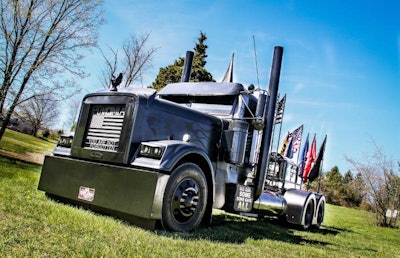 Regular readers will recall owner-operator Chuck Timbrook's now-famous "Black Out" 1999 Freightliner — earlier this year, I wrote again about the unit after Timbrook added an elaborate memorial to the frame of the bobtail to honor those who made the ultimate sacrifice in military service to the country.
At that time, he gave me a little advance notice about a scale model of Black Out that was in the works from model maker New-Ray — it's now finished.
What's more, a toy shop local to Timbrook's area in West Virginia is taking as many requests as come in for pre-orders, pledging to donate a portion of the proceeds back to Timbrook's efforts with Black Out. Speaking of which, he's got the usual packed schedule of parades coming up, where you can get a look at the truck in person yourself:
Nov 18: Greencastle (in the morning), Waynesboro (midday) and Chambersburg, Pa. (late afternoon)
Nov 27: Winchester, Va. (late afternoon)
Dec. 1: Williamsport, Pa (late afternoon)
Dec. 2: Charlestown, W.Va. , Martinsburg, W.Va. (late afternoon)
Dec. 3: Inwood, W.Va. (midday)
Dec. 9: Clear Spring, Md. (early afternoon)
Dec. 16: Wreaths Across America — Black Out will be in attendance at this annual recognition effort for the fallen.
Dec. 17: Martinsburg, W.Va., veterans center — this event isn't a parade but rather a delivery of a variety of gifts and other supplies in support of the center, supported in part by Walmart in Spring Mills, W.Va., Harley-Davidson apparel, Shine Dawgs. Leathernecks, Vietnam veteran and other veterans riding groups, AmVets riders, the TA truck stop in Greencastle, Pa. and a variety of others, Timbrook notes. "I could not ask for a better group of people to help give out gifts."