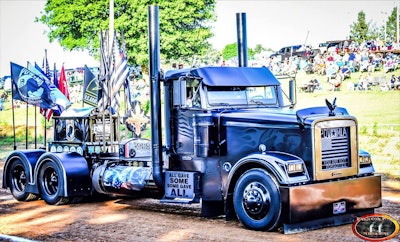 Just a couple weeks out from Veteran's Day November 11, this week's edition of the Overdrive Radio podcast walks through recent additions to the BlackOut 1999 Freightliner veterans-tribute and memorial truck, as well as owner Chuck Timbrook's formalizing of the operation as a nonprofit organization.
And updates there have been, from a new Remembrance Cross on the bobtail's decking, custom airbrushing of symbolic scenes on the tanks and other spot, and Timbrook's continuing creativity in the strong individual effort to be a support vehicle to the nation's veterans. There's new involvement in NASCAR and other racing events for Timbrook and much more in the podcast as it relates to the rig two years after Timbrook's heart surgery sidelined him from commercial hauling.
Toward the end, too, a little audio from a talk with Wisconsin-based small fleet owner-operator Rob Hallahan at "That's a Big Ten-Four on D.C." a couple weeks back –- about how, in the last year, he's brought in other owner-operators leasing to his Hallahan Transport business and has gone from 1 truck to 5 over that time period. Take a listen:
Podcast: Play in new window | Download
Since we last checked in with Timbrook, a new website home base for the five-years-running project was built with donated time and service by veteran Dave Sewell. There, you can access a calendar of events in which BlackOut is soon appearing, including the Hagerstown, Md., Mummers parade this weekend, with several that follow. Likewise Timbrook's annual Christmas fund drive that culminates with delivery of gifts to the VA medical center in Martinsburg, W.Va., this year on December 17. Events not listed on the website include early December Christmas parades in Inwood and Harpers Ferry, W.Va.; Winchester, Va.; and Shippensburg, Pa., and a December 16 event at the Antietam battlefield.
Also at the site, BlackOut gear and opportunities to donate directly are available — Timbrook appreciates every penny that's been given to support his effort, particularly now that he's no longer able work hauling.
Following, run back through (in reverse chronological order) the various milestones he's hit along the way in this project, a living, ever-changing and -improving salute to veterans and the fallen.