Owner-operator Chuck Timbrook might be on what could prove to be his last tour with this well-known 1999 Freightliner Classic XL, otherwise know as the "Black Out" veterans-support rig we've followed since he finished its original design in 2014.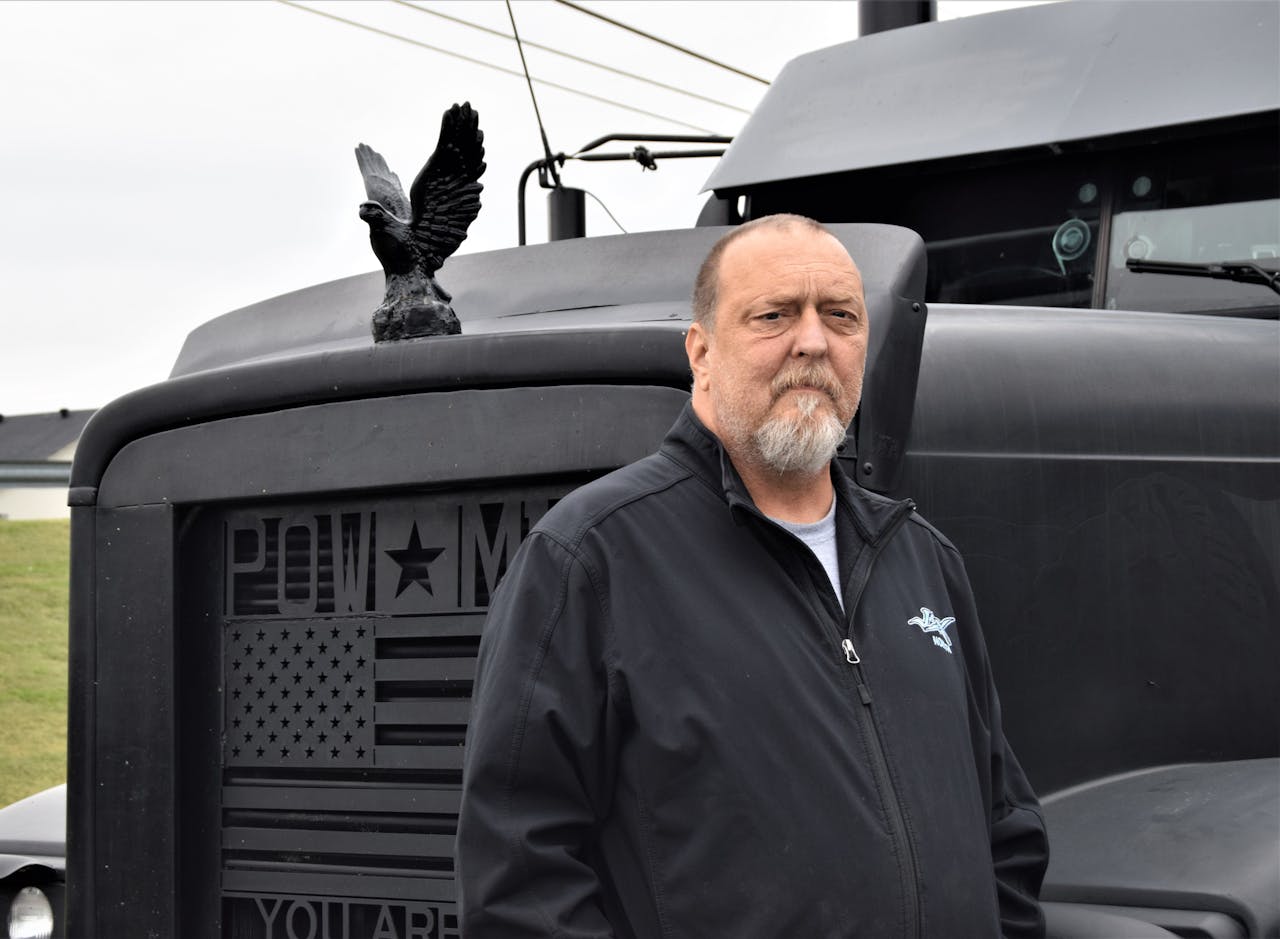 Chuck Timbrook and his "Black Out" vets-support rig.Finally, I got the opportunity to meet Mr. Timbrook in person late last week in Lebanon, Tennessee, where he and a crew of others laid over before the first official day of what is an ongoing commemorative touring event honoring fallen military heroes. It felt like meeting a celebrity, frankly, and an old friend at the same time, given Timbrook and I have talked somewhat regularly since that first story about his rig.
The heroes in this case? The 13 soldiers killed in the terrorist attack at the Kabul airport as U.S. military forces withdrew from Afghanistan in late August.
The Martinsburg, West Virginia-based Timbrook planned to present flags to the mayor's offices of 13 individual cities around the Southeast on the tour, the first being Memphis after the stop-over in Lebanon. From there, they'd travel to West Memphis, Arkansas, then to New Orleans; Gulfport, Mississippi; Mobile, Alabama; Pensacola, Florida; Savannah, Georgia; Charleston, South Carolina; Wilmington, North Carolina; Norfolk, Virginia; Hagerstown, Maryland; Greencastle, Pennsylvania; and back home to Martinsburg in West Virginia.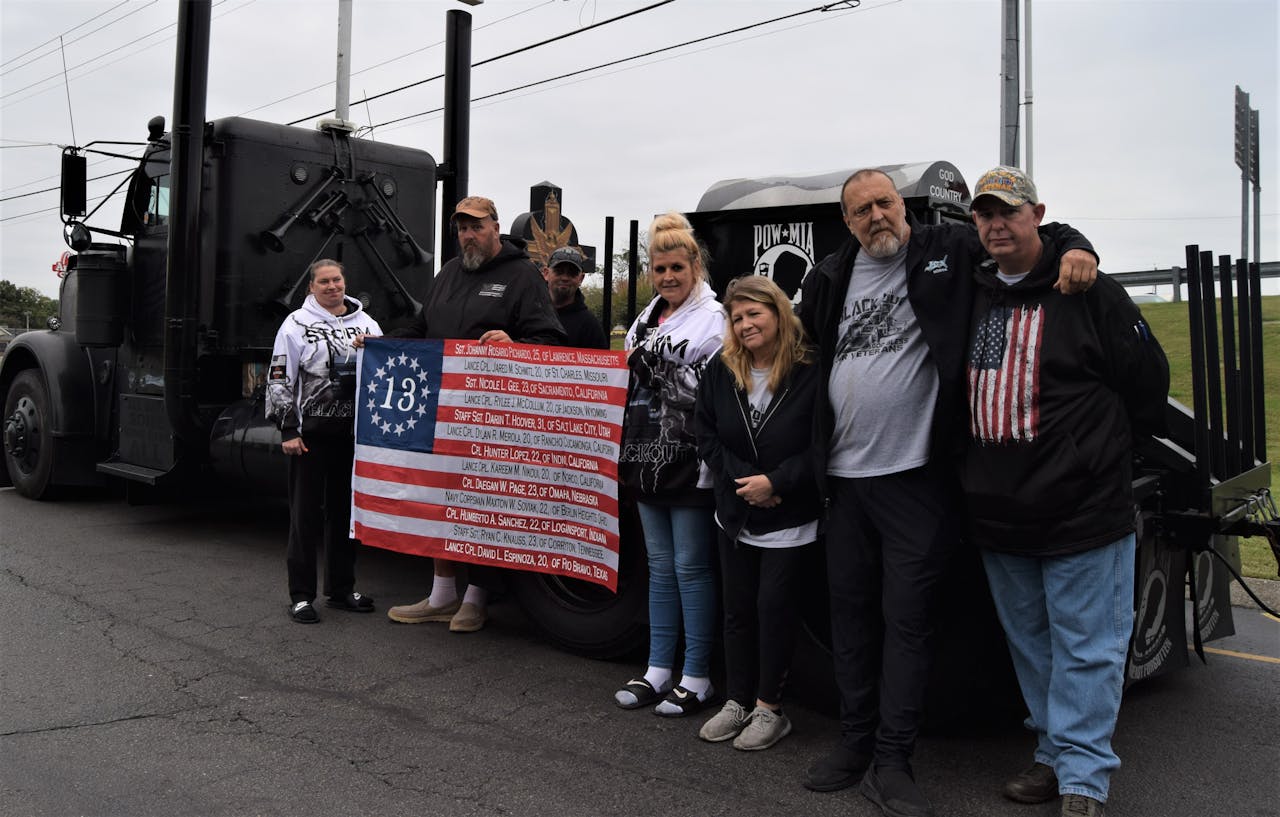 Timbrook's team for the tour, from left: Alice Brooks, Mark "Hightower" Brooks, Danny Shafer, Crystal Ashwell, Patty Timbrook, Chuck Timbrook, and Greg Broyles, pictured with one of the 13 flags they've been presenting to city governments along the way.

It was in Martinsburg that Timbrook's Black Out vets-support rig got its start dedicated to the VA center in that city, and where the final flag will be flown at a new stationary memorial on a private site there.
"All of the flags show the 13 names" of the soldiers who were felled in that last attack in Afghanistan, Timbrook said.
He felt this needed to be done as a personal gesture of respect for the families of the fallen, given their lives have fallen out of the spotlight in the months since the U.S. military's pullout. "I have a lot of respect for the veterans and our fallen heroes," he said. "When I hear people say it was a 'successful' withdrawal – yet we have 13 soldiers, 13 families who lost their loved ones during a withdrawal – that just doesn't sound 'successful' to me. That's just wiping your slate and walking away from it. There's something wrong when we lose 13 people and no one wants to stand up" in recognition of their own and their families' sacrifice.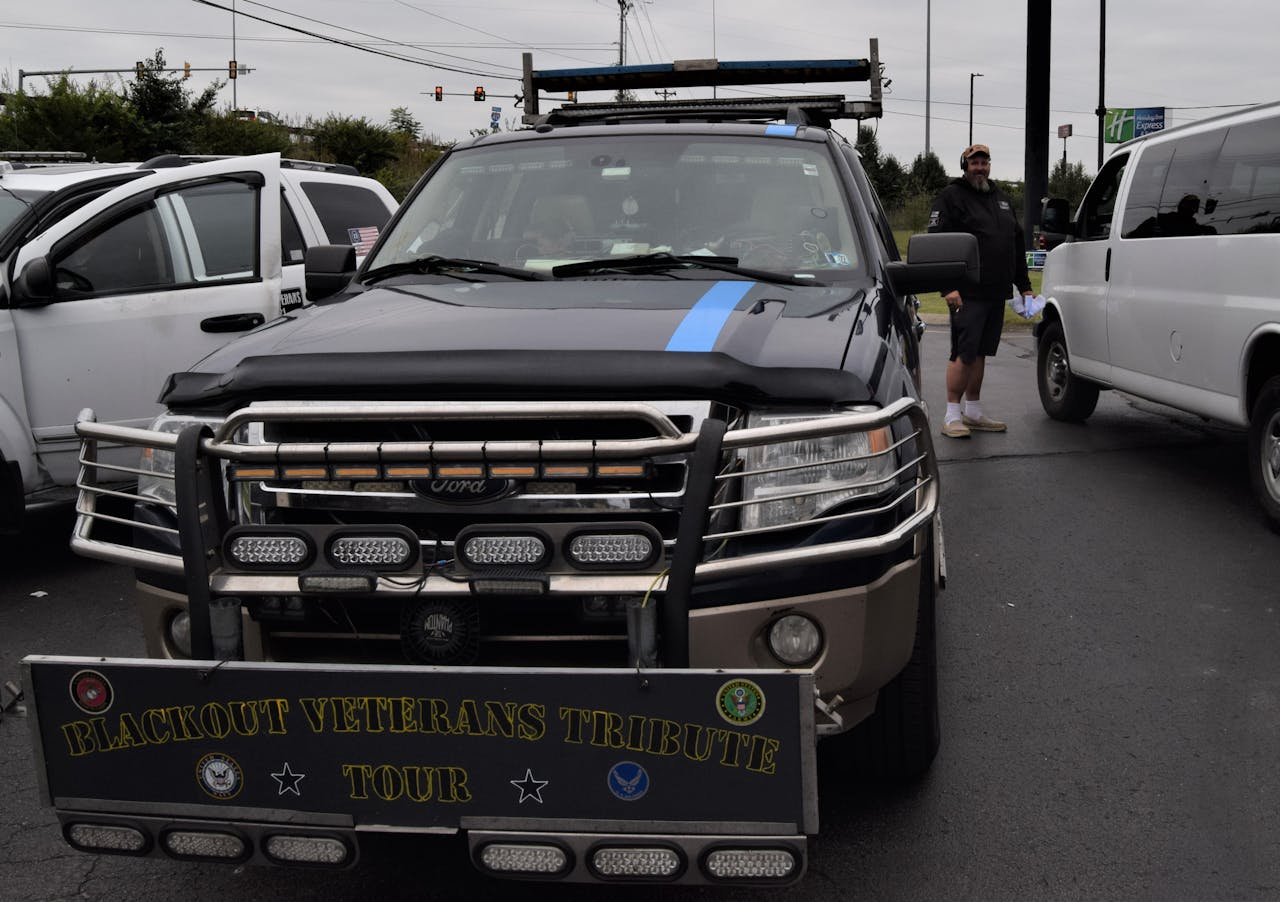 Mark "Hightower" Brooks, owner-operator of the Knockin' Boots pilot car service in Chambersburg, Pennsylvania, piloted this unit at the lead of the four-unit convoy that pulled out of Lebanon bound for Memphis and beyond this past Friday. Catch plenty views of it and Timbrook's rig, and the rollout itself, in the video at the top.

As of this writing, Timbrook and his team are on their way to Charleston, South Carolina – keep an eye out for the rig, flags flying, along I-95 in the coming days as they head north. Track back through the history of the Black Out 1999 Freightliner Classic via this search page for Timbrook's name here at OverdriveOnline.com, where we've covered it since 2014 after its initial rebuild, when Timbrook still used it to haul paper four days a week. 
As for this being Timbrook's last tour, all depends on how his health continues to hold up. He was on this tour against his doctor's wishes, he said, following the heart surgery he had back in 2016.
He told me he may ultimately sell the unit to an owner interested in continuing its vets-support mission. 
"I want this to last forever," he said. "I want this to be a forever statement."