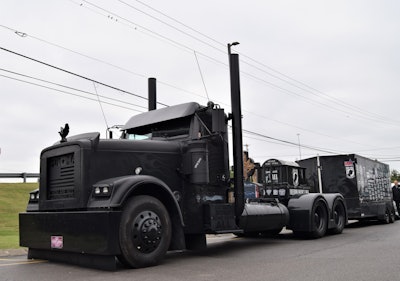 "I want this to last forever. I want this to be a forever statement." –Owner-operator Chuck Timbrook on his Black Out vets-support rig, pictured above on its final tour under his command this past October
Since completing what he's decided was his final tour of duty in command of the 1999 Freightliner Classic that is the well-known Black Out vets-support truck, West Virginia-headquartered Chuck Timbrook increasingly has been dealing with health issues that have prompted him to more actively seek out a buyer. Not only a buyer, though – rather, someone he hopes will be able to "keep the mission rolling."
It's the culmination of nearly a decade of work put into the truck and, more importantly, a mission that started with donation drives supporting the Veterans Affairs center in Martinsburg, West Virginia, particularly around the holiday season, and extended into regular parade participation, and so much more through the years.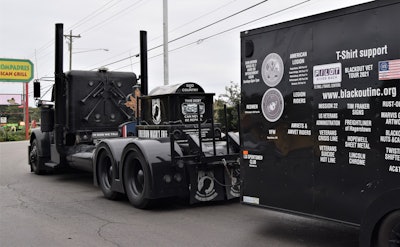 The rig also features a 2000-watt Skar amplification system pushing 12 speakers mounted in various spots around the exterior rig. At parades and other events, it became common through the years for Timbrook to use the high-powered system to play the National Anthem in tribute to veterans and the fallen. Catch a variety of views of the speakers' positioning via the following video from October, at Stop No. 1 on a 13-city tour near Nashville, Tennessee, likewise results of "hours upon hours of airbrush work" by artist Marvis Greene, who donated his considerable talents to the effort on both truck and trailer.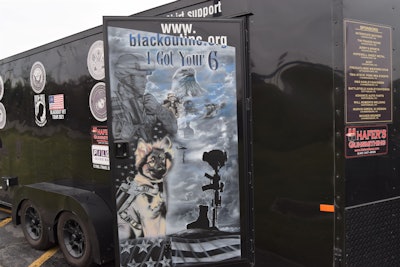 Any buyer willing to continue the mission will retain all elements of the operation, from promotional t-shirts and the marketing support that is the scale model of the rig, produced by New Ray toys, that remains available.
"The whole nine yards," Timbrook said, including a plethora of spare parts.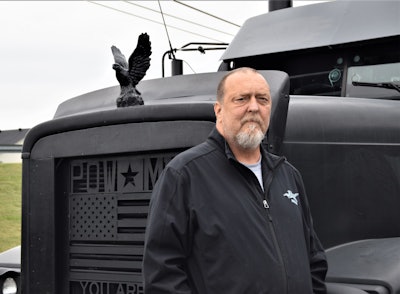 The owner-operator then of two other trucks, Timbrook bought this Freightliner as a repo around 2008, he said, and shortly thereafter put the daycab to work hauling paper regionally around his Falling Waters, West Virginia, home base. He started its transformation to what it is today more than a decade ago, bit by bit completing various parts of it and increasing his vets-support efforts. While Timbrook never served in the military himself, he's always felt a close connection to military veterans throughout his life, and felt called to give back in some way.
As regular readers will well know, Black Out has been his venue toward that goal.
Any buyer who continues the mission, he also noted, would also be supported by the Black Out Veterans Stop, a coffee shop and store he's opened within the last year within a mile of his home, on Williamsport Pike in Martinsburg.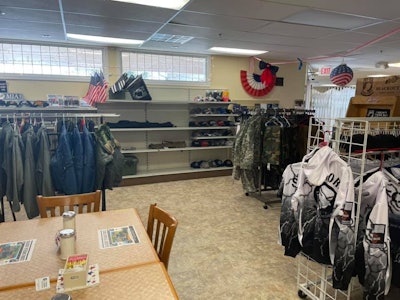 "I'll have them involved with the veterans store" there, he said, so "they'll get some advertisement out of the store and be able to have their products in the store." On-site near the store, too, is a stationary "Fallen Heroes Memorial" somewhat akin to the memorial mounted on the deck of Black Out, Timbrook said, dedicated last year.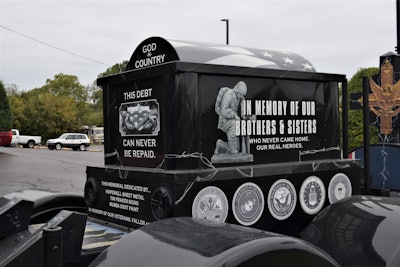 Anyone with real interest in investing in the mission as its next leader, Timbrook said, can feel free to give him a call: 304-283-8634.
For my money, I'll say what Timbrook's been able to do with the rig is no doubt remarkable – that probably goes without saying, really, given the myriad times I've checked in with him here on the blog. It's certainly uncommon to see that kind of dedication to what is, fundamentally, a selfless project. Here's to you, Chuck. I wish you all the best.
Track back through some of Black Out's history stretching back to the first story we wrote about it in 2014, via this link to the search page here at OverdriveOnline.com.