In 1985 I was a 21 year-old Specialist (E-4) in the U.S. Army and stationed at Fort Riley, Kansas. I was a 62E Heavy Equipment Operator and a truck driver with Alpha Company (Aco) of the 34th Engineer Battalion.
Every Friday at lunch I loaded up my Ford Mustang II with a set of clothes, beef sticks and other snacks. Then, immediately following COB (close of business) formation, I jumped into my car and headed North to Pontiac, Illinois via I-70, US 54, Illinois 106, Illinois 100, US 36 and finally I-55. Usually I would arrive back home just in time to walk in the kitchen door to my Dad having his first cup of coffee. We would drink coffee together and discuss the news since the week prior.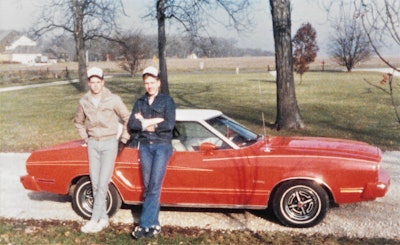 Those memories take me back to the drivers I met on each of those weekend adventures, among various other events that solidified my love for trucking. My desire to be part of the brotherhood of veterans who become professional truck drivers grew with each trip and each driver I met. Those were the days of chauffeur driver's licenses, a national speed limit of 55 mph, paper logbooks, active CBs and good old-fashioned, honest-to-goodness convoys.
I had equipped my Mustang with a Midland CB to help avoid tickets and adopted the handle "Screaming Eagle." The first driver I met who was a U.S. Army veteran himself drove for ABF. He had a dedicated load he ran from Springfield, Illinois, to Kansas City, Missouri. Unfortunately, his name and handle escape my memory. Yet he and his friendship forever changed me and my view of professional truck drivers.
When I first met him, we talked on the CB about the politics of the day, life in the Army and, of course, trucking. We stopped in the old Cardinal Cafe in Pittsfield, Illinois, and were joined by several other drivers who were in our convoy. The conversation at that large round table where we all sat was full of truck driver stories from the 1950s, '60s and '70's. Afterward, we got up and continued on. When we arrived in Kansas City on that particular trip we said our "see you on the flip" good-byes. For me, I actually thought it was good-bye.
But it wasn't.
I met the ABF driver multiple times while I was making my mad dash back and forth, and I treasured every single time we met.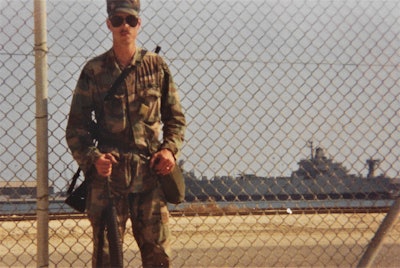 In 1992, I had recently returned from the Gulf War and was stationed at Fort Hood, Texas with the 1st Engineer Battalion. After the Gulf War, the Department of Defense had begun to downsize all branches of the military. The Army did so by first discharging all those who were not eligible for re-enlistment and then by offering severance pay to anyone who voluntarily requested to be discharged.
My career in the Army was going well, so I elected to remain and did not request to be discharged. In August 1992 I was sent to an Army Engineer school in Fort Leonard Wood, Missouri. While at the school, the Sergeant Major of the academy called me into his office. He informed me that the academy was unable to update my DA201 file (the file containing all of your military records -- promotions, schools, deployments, etc.) because it could not be located. He told me to return to the training and he would update me as soon as they located my file.
The next day, the Sergeant Major called me back to his office and informed me that my DA201 file had been located -- it was with the "Inactive Ready Reserve" in St. Louis. The Army didn't get enough volunteers for discharge, he explained, so a lottery system was used to finish downsizing. He further explained that through that lottery system I had been involuntarily discharged two months prior on July 1. The Army had given me ten days to return to Fort Hood and out- process.
That day, I left on that trip back to Texas and was discharged from active duty on Sept. 30, 1992. I was a married father of two young sons (2 year-old and 6 month-old), homeless and unemployed.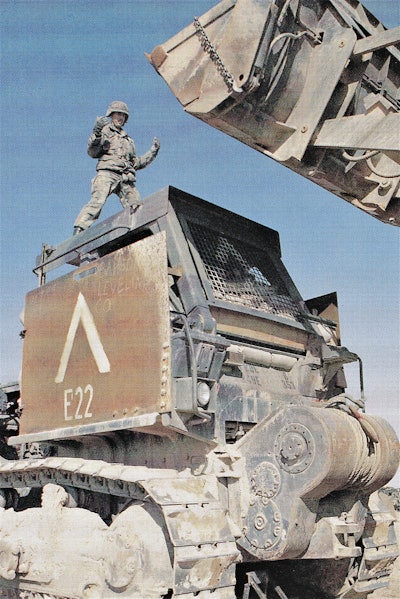 During my years in the Army I had been completing my Operating Engineers Apprenticeship forms for the equipment I was operating, which included bulldozers, bucket loaders, road graders, earth movers, backhoes, etc. Once I returned to Pontiac, Illinois, my hometown, my first stop was to the local Operating Engineers Union office. I shared with the rep the apprenticeship forms documenting my thousands of hours of experience operating heavy equipment in the Army and asked how I would go about becoming a member of the union working as an operating engineer.
He handed me back my stack of signed apprenticeship forms and told me since they were not signed by a journeyman of the union they were not acceptable. I attempted to explain my case -- that this was a program from the union in participation with the Army and that the Army has NCOs and Officers, not union members.
The union rep repeated that my apprenticeship forms were not acceptable, and that he wished me the best of luck with my job search.
I had been led to believe, and thought I had, everything I needed to become an engineer in the civilian world after my Army career.
I was wrong.
Needless to say, I was devastated, and close to panic mode. Being an engineer was the only documented skill I had. Out of desperation I decided to reach out to trucking companies and see if they would consider my military experience. One of the first companies I called was Texas Star Express in Rockwall, Texas. I spoke to the driver recruiter, Gary. Gary said he would need to speak to Bob Toberman, the director of safety, and he would call me back.
Bob Toberman called me the very next day with a few questions. Did I have a CDL? No, but I had learned that I could (and planned to) "grandfather" using my military license to get my CDL.
Bob then asked if I would be willing, once I received my CDL, to ride with another driver for $300 a week until he believed I was ready to run solo. I said yes. He then asked how long it would take me to get my CDL, so the driver could know when to pick me up and bring me to Rockwall. I told him I'd have my CDL that week, and I'd be ready to go just as soon as the driver got to Pontiac to pick me up.
That plan came to fruition and only a few days later Texas Star driver Randy Wood stopped in Pontiac and picked me up. Randy was an old bull hauler from the Waco area. He and I hit it off right away, and had a great time together in the truck. It was fewer than two weeks before Randy informed Bob I was ready to solo.
When we returned to Rockwall, I was assigned the first truck I ever drove OTR, a Kenworth T600, and off to the races, as it were, as a pro truck driver.
[Related: A veteran tanker's tale of combat on Memorial Day, 2016]
Some time later, Bob Toberman shared with me just why he hired me.
Bob, too, was a U.S. Army veteran and had served in the Korean War. When he got back from Korea, he was unemployed and couldn't find work. When Gary had come to him and asked to consider hiring me even though I didn't meet their minimum experience requirements, Bob said there wasn't any hesitation. He went straight to the President of the company, Gary Amerson, and the rest is history.
I think back to when I first met the ABF driver, Gary the driver recruiter, Bob Toberman, Randy Wood and Gary Amerson and realize that the trucking industry is without any question among the best if not the best civilian career opportunities for any veteran.
So on this Veterans Day I would like to say thank you to all those aforementioned, who welcomed me into the brotherhood of veterans who become truck drivers, and especially to those among my adoptive family, who without any hesitation gave me an opportunity to provide for my own family by driving for Texas Star Express.
Lastly, and most importantly, to all among you who have served, thank you. For without each and every one of you our Constitution, freedoms and way of life would have been lost many generations ago. God bless each and every one of you!