In the midst of a global supply chain crisis, MIT's Dr. David Correll and his colleagues have been researching why in the world long-haul truckers only average 6.5 to 7 hours of driving per day. Dr. Correll, research scientist and lecturer, focuses his studies on the working experience of the American long-haul trucker through the MIT FreightLab Driver Initiative.
"We're facing it, and we can't figure it out," he said. "We look a lot at ELD data. We see drivers getting around six and a half to seven hours driving a day on average. So there's a lot of hours left on the table. ... And we see that, yet we read the news and the news says, 'Oh, there's a big truck driver shortage! There's a big truck driver shortage!' I don't understand how something can be both scarce and underutilized at the same time. If we're so short on drivers, why aren't drivers getting all the miles they want?"
Earlier this year, two other working truckers and I were invited to weigh in on this as part of a panel hosted by the podcast "MIT Supply Chain Frontiers" -- you can hear the results above. Correll and his team analyzed ELD data to uncover the (perhaps) puzzling trend.
I was joined by Desiree Wood, well-known to regular readers as the president of Real Women in Trucking, and the 2016 Goodyear Highway Hero finalist Mark Cavanagh of U.S. Express.
Cavanagh speculated that, for one, drivers may be unschooled on the finer points of the hours of service and not "getting the knowledge of how to use their hours correctly."
[Related: Where to find a 14-hour-clock pause in the new hours of service rules]
At once, Cavanagh emphasized, "a lot of drivers today are lazy. They don't want to drive very far. So they're not running. They're not making money" if they're not moving.
Wood proffered that the dearth of truck parking impeded owner-operators and other drivers from achieving optimal utilization. "I'm going to look at my hours and go, 'I am not going to be able to make it through Houston. The traffic is unpredictable.'" Say the hypothetical driver in that scenario is headed West and making the calculation -- and sees a decent possibility of getting through/around the city without much delay. In today's world, that driver's apt to not chance it if there are no obviously reliable places between Houston and San Antonio to park, in Wood's words, "before I run out of hours."
I mentioned the daily post-10 p.m. logistical moats along the I-75 corridor I wrote about in 2018. Little has changed for the better there along the route in Georgia where one can go well over 100 miles without finding available parking after 10 at night most days.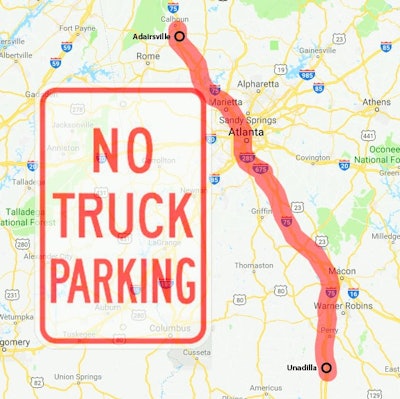 MIT's research, however, located some different culprits altogether. Can you guess what Professor Correll and his team discovered?
Feel free to call me at 765-730-7643 or email at this link.
Readers can also weigh in anonymously on limits to utilization and your own average daily drive time via the two-question survey below.