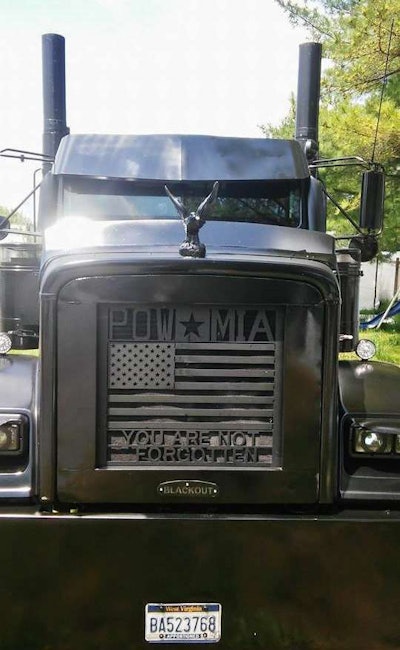 West Virginia-based owner-operator Charles Timbrook's "Black Out" 1999 Freightliner Classic custom project, intended as a tribute to military veterans, with particular reference to the 167th Airlift Wing of the National Guard in his Martinsburg home town, is in the books, he says.
Timbrook's continuing to work the truck four days a week, running local from one side of Hagerstown, Md., to the other for Maryland Paper and Apple Valley Waste, of a piece with the "battle-scarred" sort of look he's been going for with the Black Out. "It's been almost exactly a year and a half since I started on this project," he says, with several dead periods where hauling work took over in total. "Finally I got it where I wanted it – it's got the not-picture-perfect look. It's got the veteran look. There's new paint on it, but it's the matte-black look, the battle-scarred look."
Next up — he'll be making the rounds of a variety of military tribute rides and trucking shows, with the God Bless America Ride from Greencastle, Pa., to the Martinsburg Veterans Affairs Center among the very first. That's event, hosted by Rolling Thunder's Maryland Chapter, is happening Sunday, June 7, and details can be found at this link. A meeting point at the Greencastle TA is the origin point.
Otherwise, Timbrook thanks all the companies that have helped the project see fruition. In addition to those that have been mentioned already, he notes that, despite the lack of any chrome to speak of on the unit, Lincoln Chrome built the black powder-coated stacks. Talladega Fiberglass supplied full fenders, and Kenny Signs in Hagerstown can be thanked for custom graphics on back of the sleeper, deckplate and elsewhere.
Shop space, work and support of various kinds was supplied by VT Transportation/VT Customs in Waynesboro, Pa., and Antrim Diesel in Greencastle. More views of the unit follow.