Father and son team Elmo and Charlie Pacheco, also known as "Team Cutters," took home bragging rights, trophy and title of numero uno in the first official SEMA RATical Rod International Build & Drive Off.
The SEMA show is a little different in that it's a trade show only – it's not open to the public. The focus is mainly automotive specialty products, newly introduced parts, tools and components for custom automotive builds. There are some absolutely gorgeous, jaw-dropping automobiles shown at the week-long event, held each year since 1967 in Las Vegas, Nev. Suffice it to say, SEMA is a big deal.
Thanks to the addition of an official Rat Rod designation, not all the 2017 custom show builds were sleek and shiny. Some of them were downright gritty.
Team Cutters won the first annual Rat Rod build-off at the GBATS show this year, and took their win in Joplin on the road from Lincoln, Neb., to Vegas to participate, and win this year's RATical Build Off. One of the rules in this particular competition is that all builds must be road worthy, which is the reason Charlie and Elmo agreed to participate.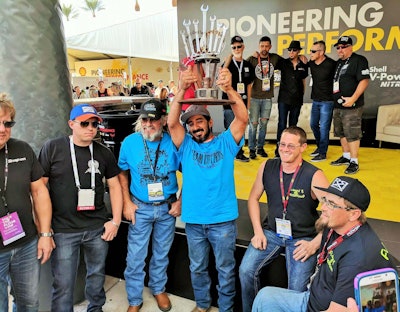 Charlie and his dad both thought it was really important the builds be complete and safe enough to be road worthy; in fact, the custom "sleeper" they fabricated for the cab of their 1942 International doesn't contain a bed – it has kiddie seats for Charlie's children. Charlie's wife, Karen, completed the look with custom upholstery and the little family traveled together on the competition route.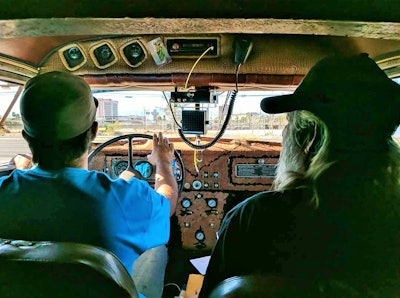 One of the highlights of the whole experience was the positive responses and shout-outs Team Cutters received on the CB during their journey. Charlie relates, "On the way home, just coming into Gallup, N.M., I passed a guy in a sweet '78 KW, and as I was turning to look at his truck, I could see he was turning to look at mine. We nearly broke each other's neck looking – just as I grabbed the CB to tell him what a nice truck he had, he beat me to it and said how much he liked mine. That's really cool. I was really happy to get the positive responses we got."
Elmo and Charlie have some personal builds they'd like to complete, but I'm sure we'll see more of them during the show circuits next year. Congratulations to the team from "the middle of nowhere," New Mexico, Team Cutters!