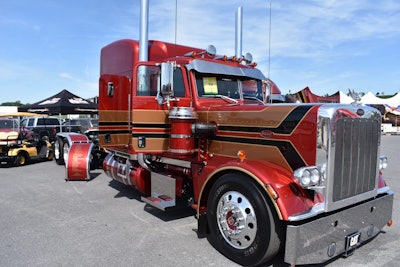 Denver Truck Painting out of Denver, Pennsylvania, took the 2013 Peterbilt 389 in the video at the bottom of this post after it had been wrecked and rebuilt it from the ground-up, giving it the look of a classic 359 in the process.
The truck was on display at the 2018 Shell Rotella SuperRigs at White's Travel Center in Raphine, Virginia, where it earned a second place in the Show Truck category.
Mark Hollen, owner of Denver Truck Painting, says he bought the truck to rebuild after it was wrecked, and as the project got going, he didn't know where to stop with it, so he and his crew went all-in. The truck was rebuilt from top-to-bottom with new bolts, privets, panels, dash, a custom-cut hood and more.
The rig has 302,000 miles and sits on a factory 323-inch wheelbase. Under the hood is a 6NZ Cat with an 18-speed and 3:36 rears.
Hollen says he's always loved the 359 style, so he added a custom 359-style bumper, 359 cutouts and stripe on the hood, all new panels, a custom 359 wood-panel dash and heater cover, 359 air cleaners and bonnets and more. The sleeper is a 2001 70-inch custom Peterbilt Ultra with all new panels. The rig also sports DynaFlex stacks and York three-quarter rear fenders.
The paint job, which is modeled after a Peterbilt on a clock in Hollen's office, took 26 gallons of paint, as everything from the frame on up is painted.