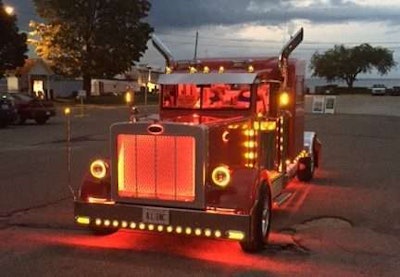 Wayne Alberts took a 1996 Dodge 2500 diesel pickup and transformed it into his "Lil Pete," a race-ready, scaled-down Peterbilt look-alike truck. Alberts used to drag race his '96 Dodge, and came across Lil Big Rig in Nashville, which builds scaled-down Peterbilt and Kenworth body kits.
When he picked up his "Lil Pete," he added a race-ready 12-valve Cummins that's tuned up to 1,000 horsepower, a Dave Goerend 47RE transmission and triple disc converter that put the power to the truck's rear axle. The full drivetrain is out of his old Dodge drag racer.
Inside the truck features custom-embroidered leather Peterbilt and Dodge seats, LED overhead lights and more. More photos of the truck can be seen below.
Click here to see more photos of reader uploads or to submit your own.