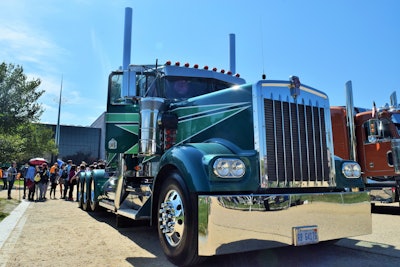 Menominee, Mich.-based 13-truck Extreme Transportation Specialized LLC is the business of owner-operator Robbie Harris' father, and the younger Harris leases this pristine workhorse 2004 W900L to the six-truck heavy-haul side of it.
He purchased the unit in 2007, when it already had the "Movin' On" homage of a paint job on it, after the 1970s W9 featured in the 1970s television series of that name. Since that time, he's modified the rig for heavy haul with the fourth axle, among other custom touches, particularly in the interior. There, a Rockwood floor and other paneling and dress work by Two Bee's Upholstery out of Seattle, Wash., has finished it out over its time in operation.
Catch a myriad of views of the rig in the video up top.
Speaking of Washington State, when I spoke to Harris at "That's a Big 10-4 on D.C." in October, after meeting him among the group parked on Constitution Ave. on Day Two of the ELD mandate protests events in D.C. more than a year ago, he also told a story illustrative of the particular ancillary costs involved on hauls for a business such as his, describing a run of a big generator — 145,ooo lbs. and 17 feet tall on an RGN — with $3,300-$3,400 all told in state permit costs, including and odd nighttime move through Idaho on account of daytime construction ongoing in a small town Harris had to pass through.
Add to that additional time — all in all it was a nine-day round-trip between his area and Washington State — and you can easily see barriers to earning potential if appropriate calculations aren't made on the front end to ensure plenty profit on the back. Or: If something goes wrong.
Harris on that long trip had a water pump go out in route that, thankfully, he was able to repair himself to get back running with as little a time and cash hit as possible.
What the owner-operators feels would be of great benefit from government is better required CDL driver training, he says, broadly speaking, and particularly more encouragement of uniformity in oversize/overweight permitting from states for operations like his own. "They're all over the board on what you can and can't do," he says, making things quite hairy from time to time for an operation like his when it comes planning, expectations for profitability and more.