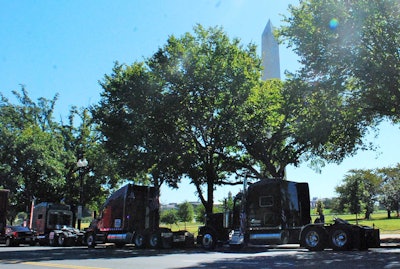 In the wee hours of the morning Wednesday, 30 or more trucks rolled into Washington, D.C., bobtail, and assumed parking positions along Constitution Ave. (pictured above, part of a contigent of 11 power units) and in front of Department of Transportation headquarters (more than 20 rigs) in association with the Operation Black and Blue group. It and other truckers are protesting the ELD mandate this week, encouraging a delay and eventual repeal. Many within the Black and Blue group had converged in Leesport, Pa., earlier in the week at the Big Rig Rendezvous truck show there, though many others had come from all over the country to take part in the effort.
Harris, like so many of the drivers on hand for this event, a growing number after the slow start of the efforts yesterday, holds fast to the freedom to operate the business with a minimum of control — the electronic logging device mandate being the principle issue of the moment but not the only one by a long stretch.
About the crew at DOT offices (with around 20 trucks in the vicinity): Drivers took turns on a megaphone pointed high up into the top of the building at DOT offices, where they were told FMCSA's headquarters were positioned within the building. Officials weren't exactly welcoming, drivers said.
Operation Black and Blue co-organizer Scott Jordan, owner of Missouri-based small fleet Power House Transportation, noted the group planned similar truck stagings near the Capitol tomorrow, then around the National Mall on Friday for an approximation of a truck show in downtown D.C., among other happenings and continued meetings with lawmakers.
Several drivers whose trucks were parked for the day today were doing double duty down by the Senate and House office buildings flanking the U.S. Capitol, visiting Senators with the group from ELD or Me reported on in the Channel 19 blog this week — among others as numbers in D.C. clearly grew. By just how much is an unknown.
Singer-songwriter Justice estimated last night upon return to the ELD or Me gathering point Doswell that his group had doubled in size there through the day, with more expected.
But it was driver Linda Stockton (she works for a three-truck owner-operator and is based in Eufala, Okla.), who delivered the most touching message of the day. Taking a break from the goings-on by the small trailer she's decked out like a sleeper in solidarity with those who drove in and were spending their "vacations" in their trucks, Stockton was close to tears when we were introduced.
Stockton feels that the weight of everything from rising prices and added costs — ELDs soon to be another — is leading her away from being able to make it driving. "And without driving, without the lifestyle, I'm not the same person. I don't feel like I'm serving my country" like she was meant to do.