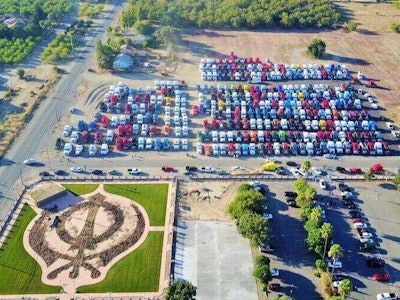 The video above, produced by Bhandal Focus, gives an overview of what a coalition of leaders from five different California locales, most associated with owner-operators among the Indian-American Sikh community, was up to during the week of October 2, when a smaller number of owner-operators and drivers converged on D.C. in protest of the ELD mandate. Owner-operator Binda Atwal is the principal speaker in the video, running through the Operation Black and Blue truckers' bill of rights, which sought to place attention closely on a myriad of issues from ELDs to parking capacity shortages and more.
I spoke with Atwal early this week, who told of well-attended demonstrations during the protest week outside the California state capitol in Sacramento and Bakersfield and Fresno (where his speech was recorded) City Councils, all capped off by a convoy that left a Sikh temple in Yuba City bound for Sacramento and beyond with more than 300 trucks. That number grew along the way to near 700 all told, Atwal says, as truckers headquartered along the route joined in. It ran into some problems in Sacramento, when ticketing of participating drivers started as a few participants formed a rolling roadblock and slowed traffic to a crawl briefly, as shown in this news video, and the still from it below: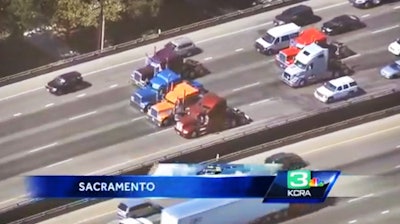 Atwal says that was unplanned, and holds officers more or less harmless for as many as 80 operators he says were pulled and ticketed for "driving with flashers on, having stickers on their windshield" and other minor infractions. "To be quite honest, I think that was fair – organizers at Yuba City didn't get the proper permits," he says, for the entirety of the route. "The ticketing did not start until we reached Sacramento" en route ultimately to Fresno. "And when [protestors] started bothering people, they started giving out tickets. I blame the guy that did the slowing down."
Owner-operator Atwal, for his part, hauls as part of a four-truck fleet that is his family's business, and turned some heads for his obvious skill in the presentation of truckers' issues throughout the ELD protest efforts in California (see the video above). Personally, he says, it's the lack of rest-option flexibility in the hours of service rule that he feels is perhaps the biggest issue for him in trucking, combined with ill treatment/undue delays at loading docks and rigid enforcement represented in part by ELDs. All of it keeps him away from his young family more than he'd like. "I have a four-year-old and a 10-month-old. When it was just me and my wife, it was no huge problem being away," he says. But with children in the picture, "I hate being away from them so much. Because of this ELD thing, I'm thinking about doing dispatch" — or working in another capacity entirely, he adds, echoing many in the owner-operator community.
Hear more from the owner-operator speaking for protestors at the top.
This week: Activity continued stemming from the #ELDorMe tweetstorm directed at the President of the United States I wrote about last week. Those engaged in it, however, Tuesday shifted to tweeting to the national media, which has in large part ignored the anti-ELD efforts. An exception of sorts to that reality showed up this week on wide-reaching legislative-news site TheHill.com in an op-ed penned by Alan Smith and Lucas Oil founder Forrest Lucas, which you can read at this link.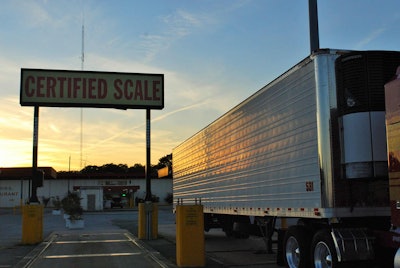 The parking issue's grassroots problems
Too often, the roots grow against new-capacity development. Love's Travel Stops is pulling out of Otsego, Minn., truck stop plans after local opposition, confirms spokesperson Kealey Dorian, after this report surfaced last week detailing an effort that sprung up against plans to put a new truck stop on I-94 in the area.
It's a perennial challenge for those who would add parking for trucks, whether state entities with rest areas or private developers like Love's.
Dorian did note, however, that though "we were unable to reach an agreement with local officials," the company has "chosen to seek other opportunities in the region."
More on various aspects of local opposition to truck parking via the links that follow: