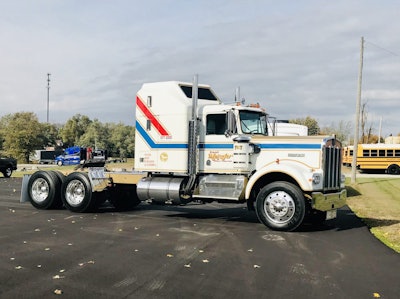 Bill Frantz drives this 2018 Kenworth W900L for Metzger Trucking out of Silver Lake, Indiana. The rig features an 86-inch Studio Sleeper and is powered by a 550-hp Cummins ISX with an 18-speed. Frantz has been with Metzger for 22 years and has more than 1.5 million safe driving miles with the company. The photo above shows Frantz delivering a load of disaster relief supplies to Panama City, Florida, after Hurricane Michael.
The company also owns a 1976 Kenworth W900 Bicentennial with the original paint job. The truck has a 350 Big Cam Cummins with a 13-speed. The 42-year-old rig has just 800,000 miles on it.
Click here to see more photos of reader uploads or to submit your own.