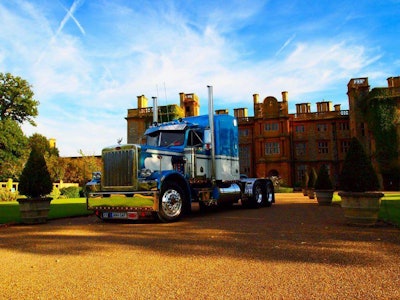 Mark Wearing, of Oxfordshire, England, owns an American truck hire company, Iron Horse Motor Lines, using rare-in-the-United Kingdom American trucks for weddings, promotions and mobile advertising. The truck above is the pride of the three-truck fleet, Wearing says – a 1983 Peterbilt 359. Wearing and his father found the truck in England and bought it when he was 21 and took four-and-a-half years to rebuild it. It underwent rewiring, repainting, numerous new parts and plenty of stainless steel work to give it the look he was going for. It's powered by a Cat 3406B with a 15-speed and 3:90 rears.
The first truck Wearing and his father bought, however, was a 1979 Peterbilt 359 pictured below. Wearing says the truck originally ran out of Kansas doing farm work. The truck was brought over to England in 2003, and the Wearings bought it shortly after. They spent about nine months working on it to make it show quality, he says. It also features a Cat 3406B with a 13-speed and 3:55 rears.
Finally, Wearing bought the 1993 Peterbilt 379 pictured below in 2017. The truck is mostly original, including the paint. Since it was brought to the UK in 1998, it has only added 11,000 miles. In total, it has 650,000 miles. Under the hood is a Detroit Series 60 with a 9-speed Eaton-Fuller with 3:90 rears. Wearing converted the bed into a fold-out sofa bed to allow for four passengers for wedding transportation and also retrofitted a rear Peterbilt window.
Wearing says he got into trucks at a young age when his father was a fill-in weekend trucker for a local hauler. He once saw a vintage Kenworth W900A, which got him interested in American trucks.
Click here to see more photos of reader uploads or to submit your own.