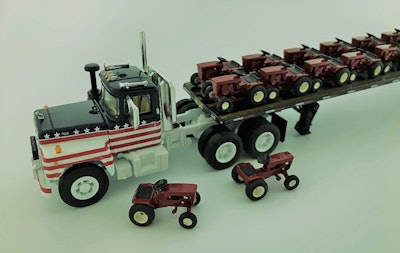 Recall owner-operator Steve Bixler's "Lady in Red" cabover and the model of it that was gifted to him early by his sons last month? I promised to get information about the man that built the one-off scale replica. Well, I know that exact scale now — 1/58th — because I talked to the industrial engineer and model-truck and -tractor hobbyist behind the build yesterday.
At his own Hoffman Mechanical Design, Eston Hoffman and his team are responsible for "anything from road-paving-equipment parts to aluminum furnaces to melt metal" to even something as seemingly esoteric as "a coin-counting machine," Hoffman says.
"I started collecting Mack Trucks memorabilia and started building models of them" at age 6 or 7, he said. "I got into [farm/garden] tractors when I was 13 or 14 – it went on from there on both."
When he started his own firm, based in small-town Central Pennsylvania, "I put that enthusiasm for trucks and tractors to work." Using "really high-tech laser 3-D printing" in a novel way, he's built models of his own antique garden tractors in a collection he'd developed over the years. It's something of a private museum that the engineer hopes to one day open to the public. That morphed into other projects commissioned by private parties, like Bixler's sons. Here are other examples of his work:
When he learned that in many cases demand justified doing production runs of 100 units, particularly for the tractors, "it took off like crazy – it's kind of like a second full-time job. As long as there's interest, I'll keep doing it."
He encourages anyone who wants to inquire about a custom build to reach out to him through the Facebook page. One-off builds can get pretty pricey, depending on how much detail is desired, but his CAD (computer-aided design) skills are such that he has the ability to custom-build every single piece of a unit to scale, as long as he's got the right pictures or other resources (such as actual parts) to work from. He said he often finds himself paging through old issues of Overdrive for photos for that purpose.
He's got ways to cut down on costs, too, such as what he did with Bixler's unit in finding a cab from a similar old model to repurpose. That's also the reason for the 1/58th scale, he said.
When it comes to the bigger production runs, and that ability to do everything in-house, Hoffman added, "We're one of the only manufacturers actually making this kind of thing in the U.S."
You can find many more examples of Hoffman's work via his Facebook page, where he also posts any sales that he has.
"The time and detail that he did on this just blew me away," said Steve Bixler about the Lady in Red. The 3-D printing work "actually looks like it was injection-molded when it's done. My truck has two sets of grab handles behind the driver door." The spare cab that Hoffman used, however, only had one. Hoffman, Bixler said, "went and bought a tattoo gun and engraved a second door into the cab on both sides."
How's that for dedication? Here's Bixler's rig again: