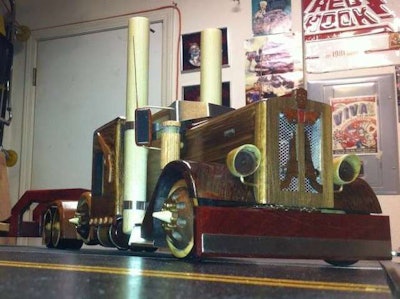 An Alaska Frontier Services driver, operating seasonally, these days is spending the off time on a budding business in model-truck building — his material and methods aren't in mass-production-type molds, plastic resins or die-cast metal, however.
Christopher Vallee of Bent Rodz Customs is working almost entirely on one-of-a-kind projects sculpted with wood.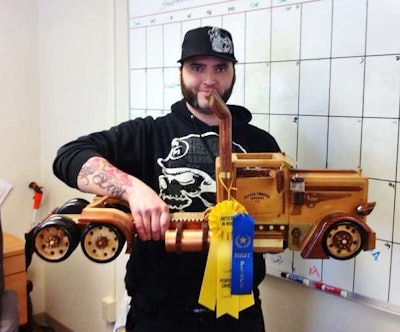 A few weeks ago he posted a shot of one of the many model rigs (and hot rods) he's completed to date — winning several placing ribbons at competitive events such as the Alaska State Fair and the Furrondy festival — to the Facebook page of 10-4 Magazine early in January, then starting his own page, and he's "now backed up with about 20 different orders," Vallee says.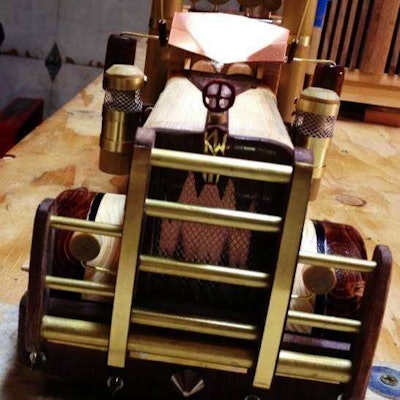 Before you inquire about an order yourself, consider that Vallee puts around 50 hours of work into each of these rigs, the one pictured at right built for the general manager of Kenworth of Alaska to go on display inside the shop. It's got a companion lowboy featuring a school bus on it that makes the overall length of the model five feet, Vallee says.
Vallee learned his craft in part from the proprietor of a hobby shop on a correctional farm he spent a short time at following some "stupid mistakes" he made in his 20s. All told, he's now been carving as a hobbyist during time off from his driving for four years or more.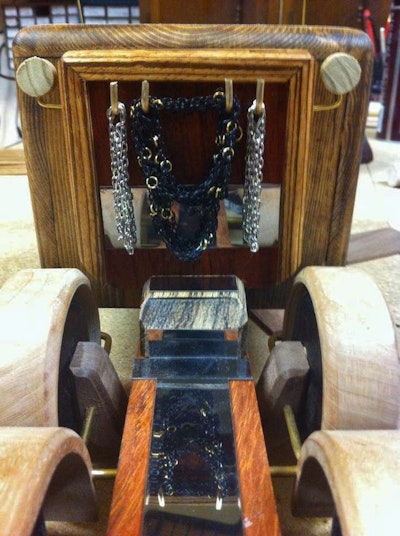 His most recent project, the pictured KW heavy hauler, he calls "one of my most beautiful," in part due to all of the hardwood he used in it. "The hood opens up, and there's a motor in it – the inside of the cab is detailed down to the Kenworth emblems on the foot pedals, and the tractor is two and a half feet long."
To really do the finish right, Vallee starts sanding with 150-grit paper and goes all the way up to super-super-fine 6,000-grit. The hardwood comes out looking "really like a marble surface. [Hardwood] is tough to work with — it dulls your blades and it's hard on your equipment," but the results are spectacular.
Find further photos of Vallee's work in the gallery below, and to get in touch with him, find his Bent Rodz Customs Facebook page via this link.