Winslow Bent, founder of Legacy Classic Trucks, has always had a passion for collecting vehicles that are attached to a particular moment in time.
Picking from his own collection with the holidays and cold weather fast approaching, Bent unveiled a well-kept and extraordinarily functional 1942 Ford Marmon-Herrington four-wheel drive SnoGo in his newest episode of the YouTube series, This Old Truck.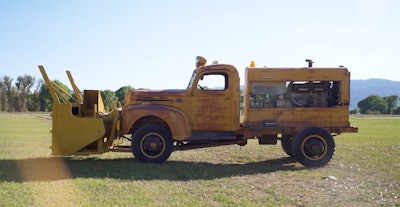 In the video, Bent explores how this $2,000 1942 Ford Marmon-Herrington SnoGo has paved the way for modern $450,000 snow blowers that help keep the roads safe during the winter months.
"This machine is such a cool piece of history for the snow plowing industry and it's amazing it still runs as well as it does. That just goes to show the exceptional craftsmanship that went into building something like this all these years ago," comments Bent. "With the snowy weather and the holidays right around the corner, I knew it would be a great time to pull this machine out and show everyone what it is truly capable of in the winter months."
Behind the rotating augers is a fan attached to the chute on the side of the loader. As the snow enters the augers, the fan shoots it over the side of the snow banks to create tall sheer walls commonly seen on highways during the winter months. Bent explains that because this machine works extremely hard to get the snow off the main roads, it tends to get very warm inside the cab. In the past, it was very common to see these SnoGo operators in the dead of winter take the doors off the vehicle given the lack of ventilation to deal with this extreme built up heat.
"On a highway, you would use this 1942 Ford SnoGo for the sides of the roads where snow keeps piling up making the roads narrower and narrower," Bent added. "These SnoGo's were crucial when the snowplows were no longer able to get the snow up on the banks. A telltale sign that the SnoGo has been there are the sheer walls that could be from 3 feet up to 8 feet of snow."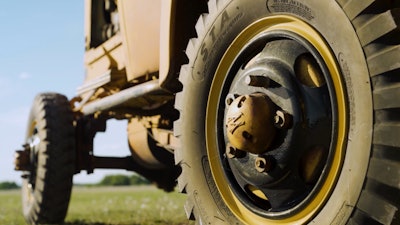 Additionally, the 1942 Ford SnoGo used to be a standard 2-ton Ford truck with the cab and engine in the front until Marmon-Herrington's four-wheel drive systems were put into place to give these machines more stability and strength when plowing the highways.