Transcript
Irby Hallman, owner of South Carolina-based Irby Hallman Trucking, bought this 2000 Peterbilt 379 about four years before last fall's Mayberry Truck Show in Mt. Airy, North Carolina, where he and his 16-year-old son, Tyler, showed the rig.
Tyler said his dad, 60 years old at the time of the show in September 2022, had owned and operated the business since Irby was 15 or 16 years old. "Ever since I've been around, I've been into it with him, and I'm starting to really get into it now that I'm getting a little older," he said. Irby is currently hauling grain, which he's been doing for about the last five years.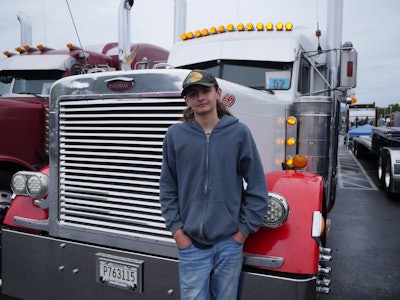 The truck still has the same paint scheme as when the Hallmans bought it, but they did have it repainted about two years ago. The truck's nickname, "Candy Cane," comes from the red and white paint scheme.
They also stretched the frame to 295 inches, added a drop visor, a bigger front bumper, half fenders over the rear axles and more.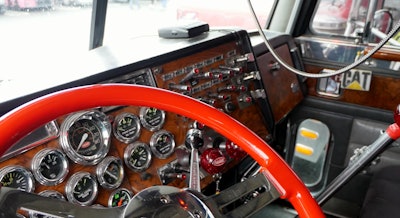 Coupled with the 379 is a 2000 Timpte Super Hopper, which Tyler said was custom build by Timpte for the Great American Trucking Show in Dallas at the time. The trailer's serial number is 0001.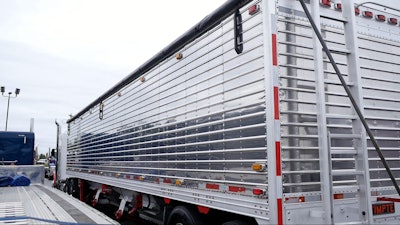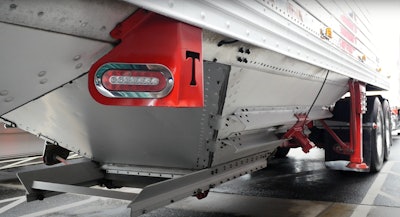 [Related: 'The fun of old trucks': John Rooney's 1984 Ford CL9000 cabover]
---
Catch plenty more views of the rig in the video up top. For custom-equipment features delivered to your email inbox, subscribe to Overdrive's weekly Custom Rigs newsletter via this link.
Transcript
Tyler Hallman: My name is Tyler Hallman. Me and my dad, we got a 2000 379. We pull a 2000 Timpte Hopper Bottom behind it. It's white with red fenders and a red frame. It was the same colors when we bought it, but we had it repainted not much long ago and stretched it out. It's 300 inch wheelbase, or 295 actually. And put half fenders on the back. And of course, the normal stuff, drop visor, a big bumper.
We have a lot of lights on it. It's got over 200 light count in total on truck and trailer. Just a lot of small stuff we've done to it over time.
Done a lot of stuff to the inside. We tricked the dash out, done chromed it all out. Custom shifter, new seats, new steering wheel. Just got a custom stereo and audio system in it and all. CB, stuff like that. Custom CB. We got some red lights on the ceiling and got some lights on the custom... The stereo's got some lights on it, lights up the ceiling and all pretty good. All LED lights on the inside.
We call the truck Candy Cane, because it's red and white. Ol' Candy Cane. We stretched it back in January and had it painted last year, around October of last year. And it's really just been, ever since we bought it, a ongoing project. It'll never be finished. We do stuff as we go on.The truck works every day.
The trailer's been customized and matches. It's all painted up the match and all. It's a 2000 as well. Timpte Super Hopper. It was actually custom built in 2000 by Timpte for the big truck show in Texas, I think it's called the GATS or something like that. The serial number is 0001. It's the only one. It's one of one and it's stainless sided, front and rear. We've painted the undercarriage all red to match the truck, and the wheels have been polished, and it's got red underglow all up under the bottom and chrome across the back. Run the lights and four mud flaps and all. It's really customized to match the truck so it's a matching unit. Matching set.