Transcript
Mauricio Soto out of Cimarron, Kansas, with Triple S Diesel, showed off this old Werner 70-inch sleeper truck that he and his team rebuilt for a customer in stunning fashion.
The truck was on display at the 2023 Guilty By Association Truck Show in Joplin, Missouri, last month. In the video up top, Soto walks through all the work put into the rig, which includes a day cab conversion, out-of-frame engine rebuild and much more.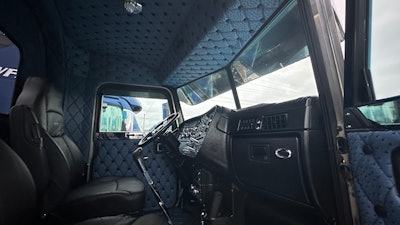 Despite the immaculate interior, "it's a good ol' work truck," Soto said. Soto and the Triple S Diesel team also converted the sleeper cab to a day cab.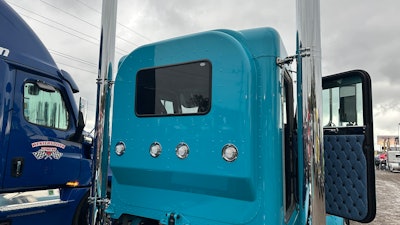 Under the hood, the Triple S Diesel team did a complete out-of-frame rebuild on the low-compression ACERT Cat. Soto said it's now putting out around 600 to 650 horsepower.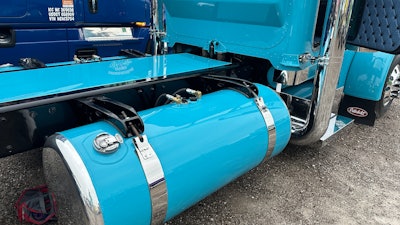 [Related: Rare beauty of a 'time capsule': Introducing the 1948 Peterbilt of Jason Nickels]
---
Catch plenty more views of the truck in the video up top. For more videos and custom-equipment features delivered to your email inbox, subscribe to Overdrive's weekly Custom Rigs newsletter via this link.
Transcript
Mauricio Soto: Mauricio Soto, we're at Cimarron, Kansas, with Triple S Diesel, LLC. We're more into the repair and building of the truck business side of it. This is one of our customers' trucks, actually. They brought it down to show it off, and we came down to help them get it all set up and whatnot.
This is a '05 Peterbilt 379. This was actually an old Werner truck that we took. It was a 70-inch sleeper truck, stripped it down to just cab and chassis, redid the frame, did a complete out-of-frame on the engine. Everything new went back into the engine, built into a low-compression ACERT (Cat engine). It's set up around a 6-, 650 horse set up right now, just a good work truck engine right now. We did single turbo, full tilt manifolds on it, then we painted the complete truck, Lincoln Chrome bumper, stacks, Nu-Gen visor, Nu-Gen badges on the side of the hood. Yeah, I mean, we've just done all the basics to it. I mean, it's a good old work truck.
We did a complete interior, and this one where we did the day cab conversion on this, we had to build all the back pieces for it custom since none of that was there before. This truck didn't have a headliner in it either when we first got it, so we had to build all that from scratch also. It's all ostrich leather, blue ostrich leather. We did ostrich leather on the gauge panels and everything, too. Everything gets built in-house by us, we don't outsource any of that stuff. We do have a ton of fun doing that.
Matt Cole: How long did the complete build process on this one take?
Mauricio Soto: About six to eight months, I believe is what we had into it.