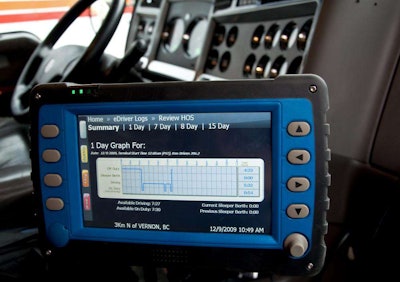 A new electronic log rule could be proposed by September, said Federal Motor Carrier Safety Administration head Anne Ferro Thursday, March 14, at a congressional hearing, testifying to a House subcommittee.
The Highways and Transit Subcommittee — part of the House Committee on Transportation and Infrastructure — questioned Department of Transportation administration heads for two and a half hours wanting updates on progress made to rules and initiatives in the MAP-21 highway funding law from last summer.
The law requires that an electronic onboard recorder (electronic log) rule be made by the time the law expires in mid-2014.
Ferro was questioned by the subcommittee's chairman Rep. Thomas Petri (R-Ore.) about potential issues of trying to squeeze every driver's schedule into what he called a "one size fits all" rule, including scenarios of drivers being close to home or close to a destination and running out of hours.
Ferro said uniformity has been a big issue for FMCSA in making the rule, but that uniformity is a must to "ensure a level playing field." She also said that most companies who switch find electronic logs to be "effective and profitable," and that most drivers "over time" prefer EOBRs to paper logs.
She was also pressed by Rep. Peter DeFazio (D-Ore.) about the problems presented by detention time to hours of service rules and what the agency plans to do about it.
A study is underway, Ferro said, and the agency is expecting results by 2015.
For the full story on the hearing — including more on questions about hours of service, EOBRs and truck weight and size limits — see Overdrive sister site CCJ's article.