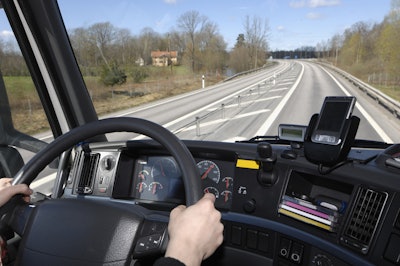 A company conducting research on behalf of the Federal Motor Carrier Safety Administration has received an exemption to install windshield-mounted camera-based monitoring systems in up to 500 commercial motor vehicles.
On July 23, agency officials granted the Virginia-based Transecurity a 90-day waiver to place an on-board monitoring system near the bottom of windshields. The FMCSA requires that antennas, transponders and similar devices not be more than 6 inches below the top of the windshield and outside the area swept by the windshield wipers and the driver's sight lines to the road.
Transecurity said the exemption was necessary "because the safety equipment must have a clear forward facing view of the road, and low enough to accurately scan facial features for detection of impaired driving."
The FMCSA published a request for comments Aug. 23 on the commercial on-board safety product company application. After receiving no comments, the agency announced it had granted a two-year exemption in the Nov. 28 Federal Register.
Agency representatives stated confidence that allowing the exemption should not decrease safety. Additionally, without the exemption, it would be unable to test this system.
Carriers participating in the testing are the North Carolina carriers Eagle Transport and H&W Trucking; Associated Grocers of Louisiana; AM Express of Michigan and a bus company.