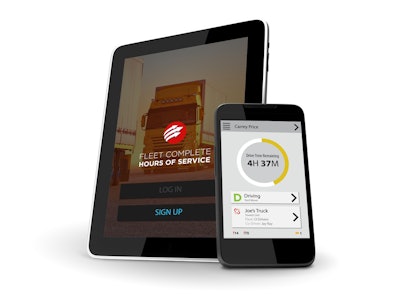 Fleet Complete, a Toronto-based provider of fleet, asset and mobile workforce tracking and management software and services, announced the official launch of a mobile app-based electronic logging device, available through the company's distribution partners in the U.S. and Canada. Utilized without other services, the mobile app and its engine-connected hardware would come in at what would be the lowest monthly subscription price in the market for electronic logging devices that are offered for a subscription fee (most) — $7 monthly.
Problem is, it's not available for that standalone functionality as yet, says company rep Roopa Shah. "Currently you would need the Fleet Complete system in addition, so this is an add on." The base system is $29/month. "In the future, it may be a standalone and/or you can have a stripped down basic version of the FC system – but not at the moment."
The app joins Fleet Complete's platform for fleet tracking, mobile resource tracking, mobile worker dispatching, asset tracking and fleet compliance solutions.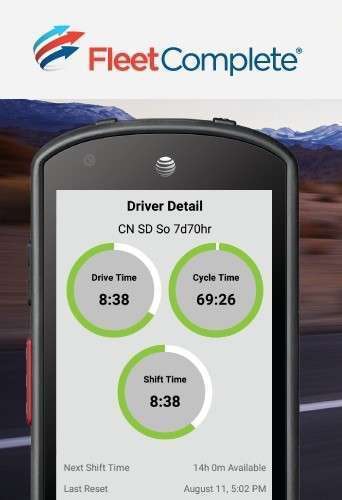 The new app boasts a clean design and intuitive navigation, the company says, allowing drivers to easily record duty status, available drive time by monitoring engine hours, vehicle movement, distance driven and location information as well as choose current hours rules (Canadian or U.S.) and log pre-trip/post-trip vehicle inspections. Optimized for all fleet sizes, the app also has Bluetooth connectivity and the ability to display timely violation warnings, send emails to designated managers, share data and store logs for six months, among other enhanced features.
Fleet Complete HoS, the company says, is designed to be an ELD-compliant solution well before the rule enforcement date of December 18, 2017. Similarly, the app will be updated as required to reflect changes to any U.S. or Canadian regulations.
"Fleet Complete continues to be at the forefront of the telematics industry in developing innovative and value-driven solutions for fleets, owners and operators," said company CEO Tony Lourakis. "We are thrilled to help simplify our customers' ELD compliance well in advance of the rule date."