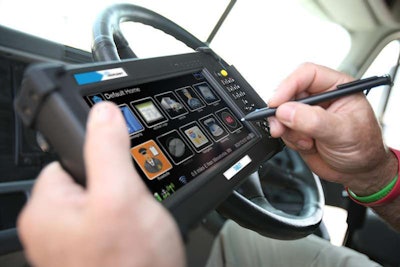 The Supreme Court is scheduled to issue a decision May 12 on whether it may take up the Owner-Operator Independent Drivers Association's suit against the DOT and its December 2015-published electronic logging device mandate once a decision has been issued by a lower court.
A petition was filed in April with the Supreme Court by truck driver William B. Trescott, a company driver for Swift. According to court documents, Trescott also filed earlier this year to intervene in the lawsuit on behalf of the OOIDA and truckers Richard Pingel and Mark Elrod, the two other plaintiffs suing the DOT and its Federal Motor Carrier Safety Administration over the ELD mandate. The court has denied Trescott's motion to intervene.
In an email to Overdrive, OOIDA says it has "no involvement" in Trescott's motions.
Trescott's petition to the Supreme Court asks the nation's high court to issue a writ of certiorari to the 7th Circuit Court of Appeals, the court currently overseeing the proceedings.
Such a writ, if granted, would mean the Supreme Court has an interest in hearing the case once the 7th Circuit Court has issued its decision. The 7th Circuit Court is the federal appellate court immediately below the Supreme Court.
A denial of Trescott's motion would mean the Supreme Court intends to leave the decision in the hands of the 7th Circuit Court of Appeals.
OOIDA filed a legal complaint in March against FMCSA seeking to overturn the agency's December-published ELD mandate. The rule is set to take effect in mid-December 2017, but OOIDA has asked the court to strike down the rule, arguing its an unconstitutional violation of truckers' 4th Amendment rights and will do little to enhance safety,
OOIDA told Overdrive last week it expects a decision from the 7th Circuit Court by year's end.
Overdrive will publish more on the motion to the Supreme Court once it issues its decision.
Correction: An earlier version of this story incorrectly said the 7th Circuit Court had not yet issued a decision on Trescott's motion to intervene on behalf of OOIDA, Elrod and Pingel in their suit against FMCSA. In fact, Trescott's motion has been denied.