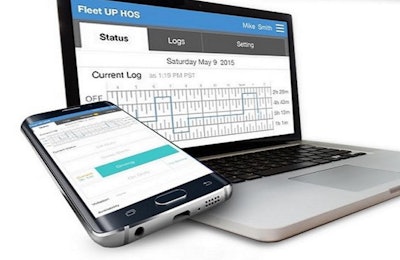 FleetUp has completed a review with the Federal Motor Carrier Safety Administration for the ELD mandate, the company says, following news last month that the agency had begun vetting information received from the few ELD providers listed on its young electronic-logging-device registry. Under the timeline specified in the ELD final rule published in December, interstate truckers (with some exceptions) will be required to utilize an ELD on the registry for hours recording by December 2017.
"We are very pleased to complete the FMCSA review," said FleetUp COO Dave Holt. Attendant to prior reporting, Holt noted the agency had requested "one raw data report to show that our graphical report comes from the data in the cloud-based database."
FleetUp's ELD solution works through the On-Board Diagnostic (OBD) port on a vehicle and takes less than 10 minutes to install, the company says. Drivers can view the amount of hours driven, rest required, and available driving hours left within the Android or iOS mobile app, which includes functionality for driver vehicle inspection reports as well.
The FleetUp backend uses a cloud-based architecture, and the ELD transmits GPS, driving status, engine and fuel usage data via the cellular network.