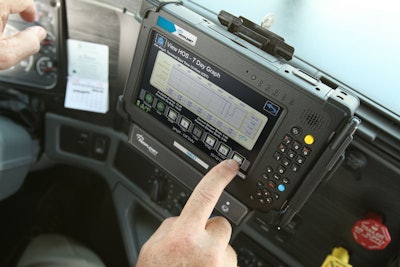 The Owner-Operator Independent Drivers Association, whose lawsuit to overturn the electronic logging device mandate was denied Oct. 31, hopes to continue its fight against the requirement.
The next step would likely be appealing to the U.S. Supreme Court, but OOIDA said Tuesday it hadn't made a decision yet on what it will do next.
"We are disappointed and strongly disagree with the court's ruling," said OOIDA President and CEO Jim Johnston. "Because this issue is of vital importance to our members and all small business truckers, we are reviewing our next steps to continue our challenge against this regulation."
OOIDA argued that the rule violates truckers' Fourth Amendment rights, and also didn't meet Congress' standards for an ELD mandate, but the court rejected both arguments. The group filed the lawsuit in March.
With the federal appeals court ruling to uphold the mandate requiring the use of ELDs in nearly all U.S. trucks, the mandate is set to take effect Dec. 18, 2017. The decision does not change the rule's exemption for pre-2000 year-model trucks, which are allowed to operate without an ELD.
The American Trucking Associations has supported the rule. "ATA is pleased that the court has cleared the way for this important regulation, and we look forward to its implementation," said Sean McNally, ATA vice president of public affairs.
Other reactions from the industry can be seen below:
The Truckload Carriers Association supports the court's ruling and said it will help level the playing field for all carriers.
"Our members are rather proactive, and having the court back them and their ELD efforts is a good thing," said David Heller, TCA vice president of governmental affairs. "The court ruling goes a long way toward leveling the playing field and making sure all carriers are abiding by hours-of-service regulations.
The Alliance for Driver Safety & Security, or Trucking Alliance, applauded the court's ruling, saying ELDs help reduce driver fatigue and improve safety.
"The fact that Congress mandated ELDs, rather than relying on the FMCSA to simply promulgate a rulemaking, gave this issue much more weight," said Lane Kidd, the Alliance's managing director. "Congress mandating ELDs will prove to be the pivotal point that changed the trucking industry for the better and a new era of safety and compliance."