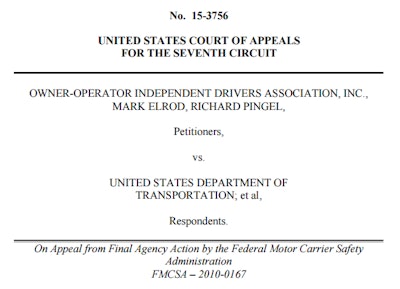 More than one trucker struck a defiant yet hopeful tone in responding to yesterday's Halloween decision by the 7th Circuit Court of Appeals upholding the Federal Motor Carrier Safety Administration's electronic logging device mandate final rule, issued nearly a year ago.
In the podcast at bottom — and at the top of the mailbag playlist above — you'll hear one such Overdrive reader urge the Owner-Operator Independent Drivers Association and fellow truckers to "keep fighting" and, respectively, find the opening to take their challenge to the Supreme Court or proceed with individual appeals elsewhere, such as to Congressional representatives.
There's indication OOIDA, at least, is considering its options, and according to recent contacts may know more later this week.
As has been the case through the years when the prospect of of mandated e-logs rears its head, there's also been no shortage of point of view on problems within the hours of service regulations themselves. Readers point to the inflexibility of the 14-hour on-duty clock and limited sleeper-split options to extend it as taking too much safety control out of the driver's hands when livelihoods are at stake. The pressure to earn within the 14-hour window, no matter the road conditions or traffic tie-ups, some suggest, has an ultimately negative impact on safety.
In results of recent polling that took the top ten named trucking issues from the American Transportation Research Institute's recently released annual survey and asked readers to name their top concern, Overdrive readers placed issues at least related to hours in the top three. A cumulative 71 percent of readers chose either the ELD mandate (33 percent), the cumulative impact of regulations (30 percent) or the hours of service regulations themselves (8 percent) as their issue of most concern.
Owner-operators' named top challenges among those in ATRI survey
Hear further viewpoint on the court's decision on the mandate in the podcast, which follows.
Podcast: Play in new window | Download