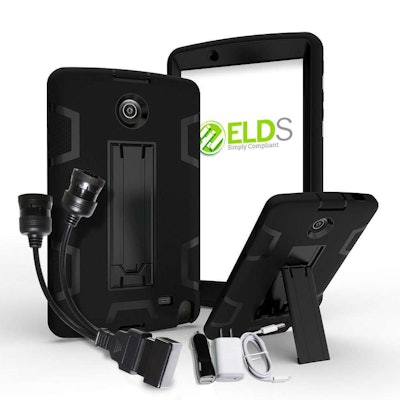 The ELD Solutions company finalized an electronic logging device product in April and is accepting orders for subscription services at price points from $20 monthly and more for its Bring Your Own Device (BYOD) configuration to $50 or more for its dedicated-tablet options. The ELDS device/software was created by trucking industry veterans using technology developed over the past 10 years," the company says. Prior to launching the product, input was sought from industry leaders to learn more about what drivers and carriers want and need from an ELD provider. ELDS used the feedback to simplify the compliance process for all companies affected by the ELD mandate.
Says ELDS Vice President Jeffrey Farrington, "The ELDS team has used our knowledge of the industry to refine our existing technology and to ensure that the product is compliant and simple to implement. We guarantee to all of our fleets that our product meets the FMCSA requirements for the new law."
ELDS is not yet listed on the Federal Motor Carrier Safety Administration's device registry for self-certified products. After December 18 this year, most truckers keeping logbooks or using an e-log today for logs will need to utilize a certified and registered ELD for logs, with some exceptions. (For more about the current market and rules and regs for the devices, follow this link to Overdrive's comprehensive "Insight the black box" ELD guide from the April issue.)
ELDS offers subscription packages that vary from simple ELD mandate compliance to a full suite of telematics tools and asset tracking. Details of "basic," "deluxe" and "premium" packages, available in full via this link to the ELDS website, include some the following:
Dedicated device packages also include an 8- or 9.6-inch tablet and rugged case with the monthly subscription.
Insurance is available for tablets in the dedicated device packages.
Based on carriers' needs, tablets can be assigned to each driver or to each vehicle.
Trailer tracking is available as an add-on to any package with a five-year battery life on the battery-powered tracker. A tethered version is also available.
24/7 live customer support based in Tennessee is available to all ELDS customers.