The Trimble Company's Field Service Management Division announced that its FieldMaster Logs application has been registered with the Federal Motor Carrier Safety Administration (FMCSA) as a self-certified electronic logging device.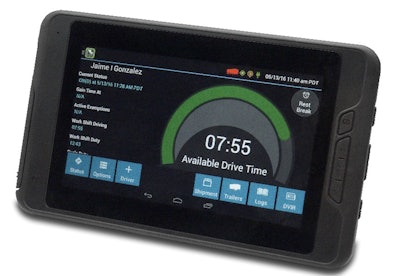 The ruggedized-tablet-type dedicated unit ELD adds hours of service and driver vehicle inspection report functionality as part of a robust Fleet Management portfolio. The program allows for drivers to log activity and provides clear communication to the driver about hours remaining, offering reports to managers to measure their drivers' activity and availability. Using FieldMaster Log's DVIR features ensures pre- and/or post-trip inspections are performed and logged, with vehicle issues captured and communicated to the maintenance team.
Trimble's Fleet Management portfolio offers hardware and software solutions for capturing vehicle positions, tracking driver behavior and communicating with the vehicle's engine bus to obtain diagnostic information. Monitoring these activities allows carriers to reduce fuel costs and improve driver safety.